Twitter is one of the most used social networks today. Twitter is even faster on reporting large news events than the global media. There is a lot of good content on Twitter for all matter of purposes. 
Want to jump straight to following Twitter feeds? Click here to follow Twitter feeds with Feeder. Or, continue reading to learn how to create a Twitter RSS feed and add it to your feed reader.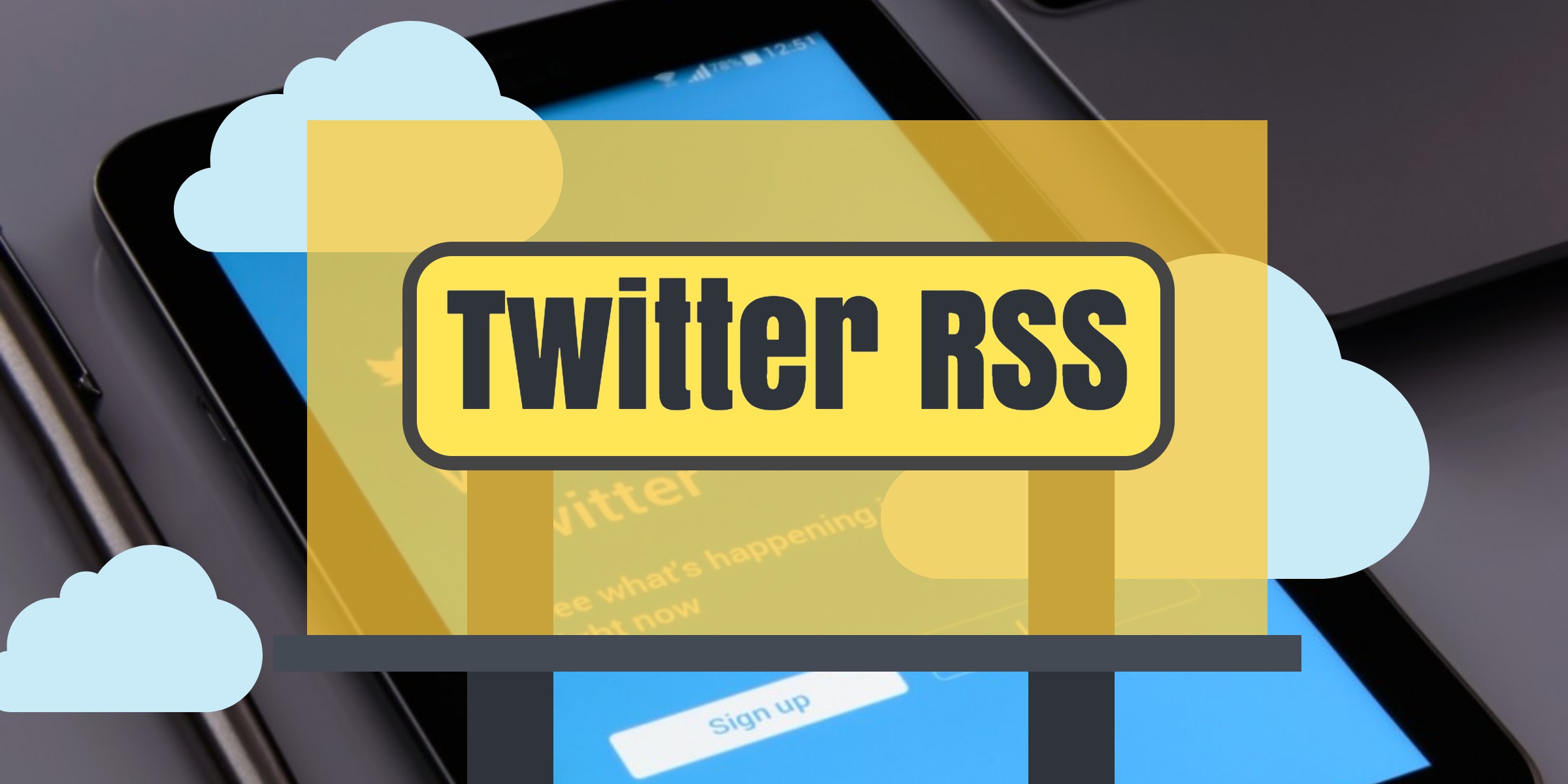 Twitter RSS Feeds
The social network has removed native RSS feeds from its public interface. It used to allow users to click on the special RSS icon and subscribe to the posts of each user they selected. Today you need third party services to make RSS feeds from tweets.
Twitter RSS feeds are good for collecting your personal Twitter content into one place. As well as great for content publishers who want a Twitter feed to add to websites, blogging platforms and so on.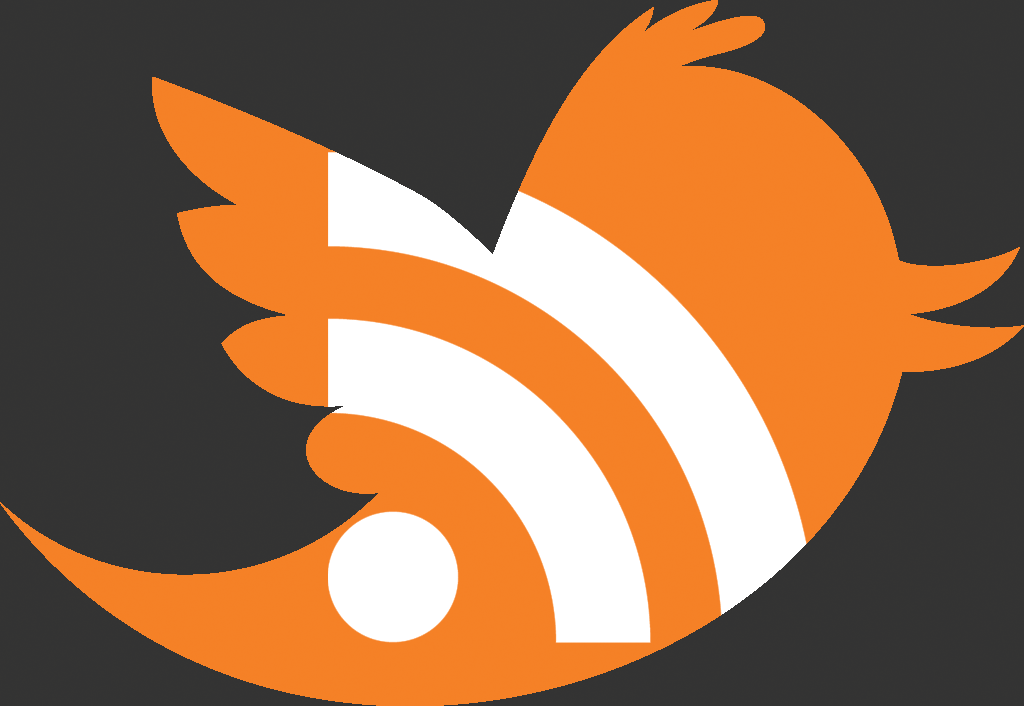 How to create Twitter RSS feeds
Because the native option no longer exists, tools are available on the internet for creating feeds. Also, today many RSS feed readers have Twitter RSS feeds built-in as an extra option. We recommend choosing an RSS reader with Twitter RSS feeds built in, as it is by far the easiest way of managing all feeds in one place. Here are some popular tools:
Feed readers
3rd party tools
In this article, we will look at the two most popular ways of following Twitter RSS feeds. Both via direct integration in RSS feed readers and also 3rd party tools.
Feeder
First off is Feeder, one of the most popular RSS readers out there with Twitter feeds built-in. No special technical knowledge is required. And no need for working with complex URL's and parameters.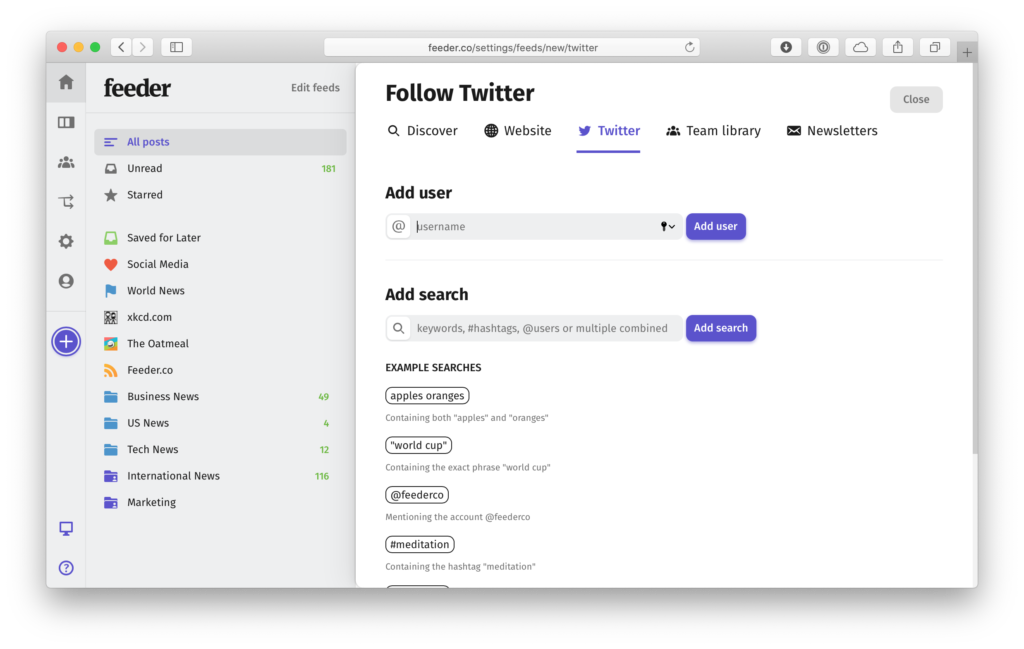 With Feeder you can follow all types of Twitter content: users, hashtags, keyword searches, lists, your "home"-feed, users likes and more. It really is a versatile integration. Simply create an account, and in the web reader there is a tab under the add feed section detailing how to get started with Twitter RSS feeds. Feeder also has a whole range of tools for collecting, sorting and sharing your content. Both within Feeder and externally. Read about how Feeder works here.
The tool allows you to create a feed based on a particular user, or a feed based on search terms or hashtags. This is quite useful for business users who want to keep track of trends or mentions of their brand. To do this simply enter the Twitter-handle in the field labeled "Add user".
To add a search enter your search term in the field labeled "Add search". In this field you can have some fun. You can create simple searches like "rockets" which will show all hits with keywords "rockets". You can then use tools to hone your search, like adding hashtags, users, adding or removing keywords. For example "rockets @spacex" will show results for "rockets" that also mention the user @spacex. If you'd like to remove certain keywords you can add a minus-sign before a keyword: "rockets @spacex –florida". The search tool is very, very powerful. Read more about advanced searches on Twitter's help page.
RSS.app
If you need an external RSS link for your Twitter RSS feed, rss.app is a great tool to use. The tool allows you to create a feed from many different types of content, and then import that feed in your desired RSS feed reader.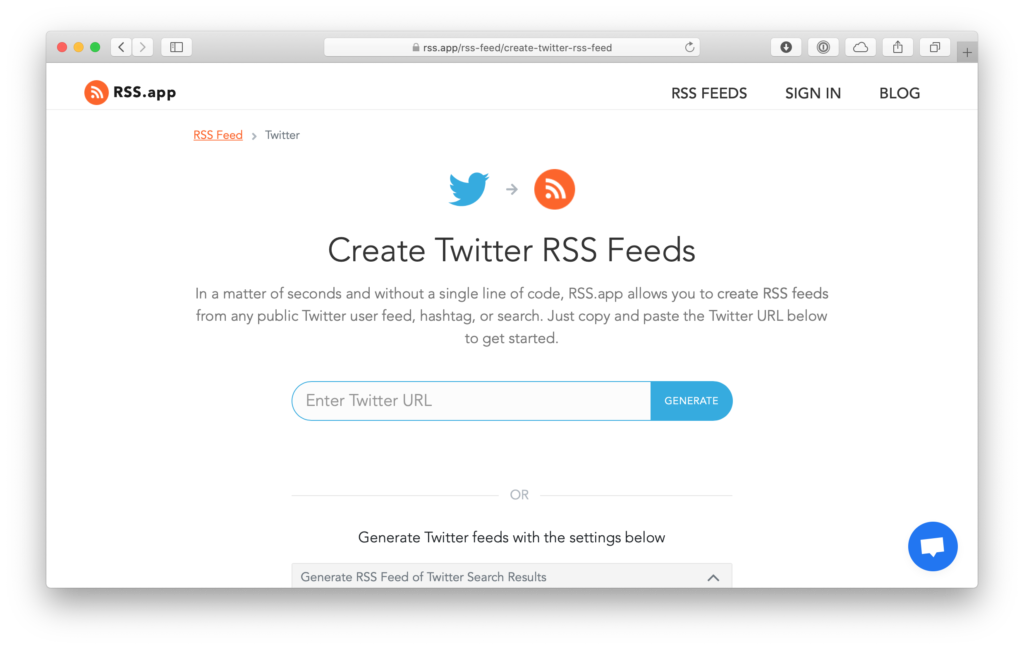 To get started, visit rss.app and pick Twitter as your source. Then you add your terms. If you want to create a feed from a Twitter user, paste a URL to your desired Twitter user into the field labeled "Twitter URL". Or you can add users via the section specifically made for entering users. Similarly, creating an RSS feed for a phrase or hashtag can be added via a URL, or via their specific sections. When you have added your term, simply click "Generate" and wait. 
Once the feed is ready, you have many options in front of you. You can copy the newly created RSS-link into your favorite RSS reader (For example Feeder, where adding feeds is very fast and easy). You can also get options to embed the generated RSS feed into your own site. There are also options for adding filters.
You can also generate the same URL from your mobile phone and paste it into an RSS reader app (Again, for example Feeder, link to App Store and Google Play).
In conclusion
Creating Twitter RSS feeds is not as easy as it once was, but there are still many good options for creating one today. We detailed the easiest way, integrated via your favorite RSS reader but also how to create external links that you can use wherever you like. To get started in the fastest way possible, start following Twitter feeds with Feeder. Hope it helps!