Collections are lists of posts that YOU control. It's a powerful tool to help you stay organised and create new workflows with your feeds.
Create a Collection
To create a Collection you need to head over to the Settings page. Here your defined collections are listed neatly in a box next to your feeds.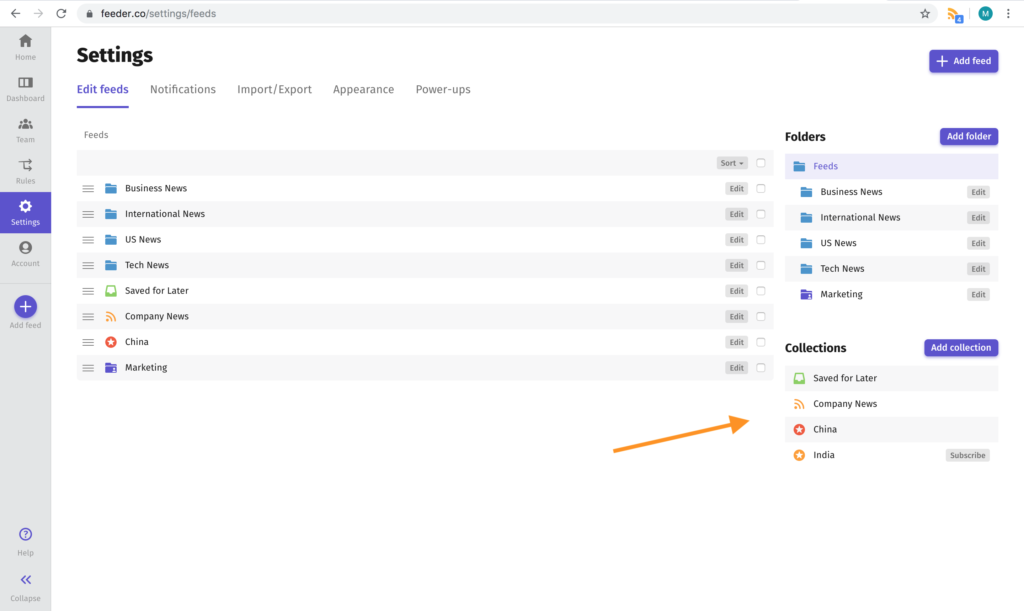 Name your collection something appropriate. Then choose the icon and color that best represents the content you're planning on putting there.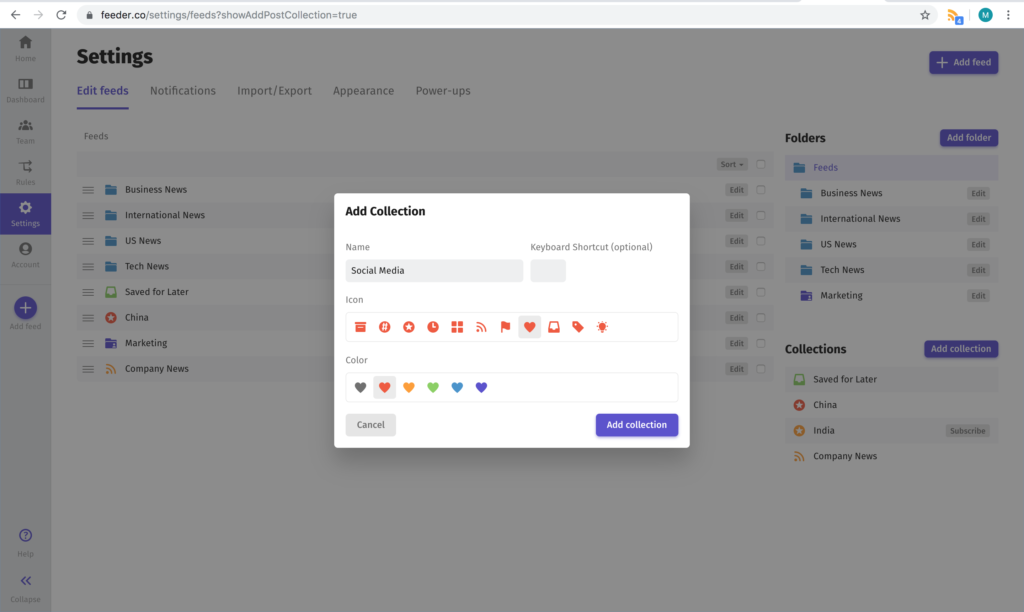 Press "Add collection" and it will appear in your feed list. The collection can be moved and added to folders, just like a regular feed.
Add posts to a Collection…
Note: A post can be added to as many collections as you wish, but it can only be added once per collection.
…in your web reader
Right-click on a post to make the Collection Dialog appear. In the "Reader" mode, the Collections icon will appear at the bottom together with the Share/Star/Read icons. In the "Minimal" and "3-pane" mode the Collection icon will appear in the top bar.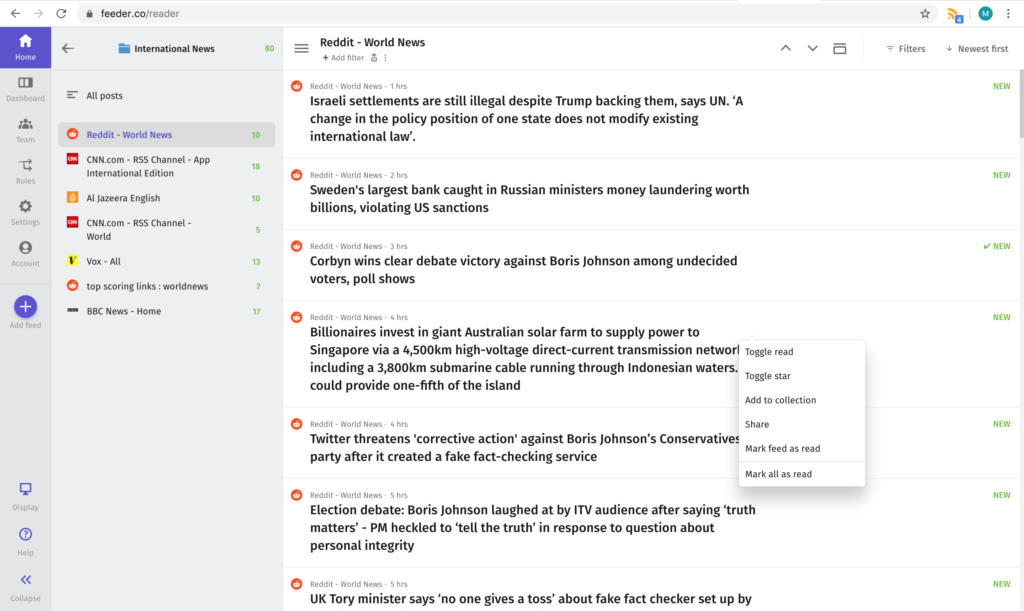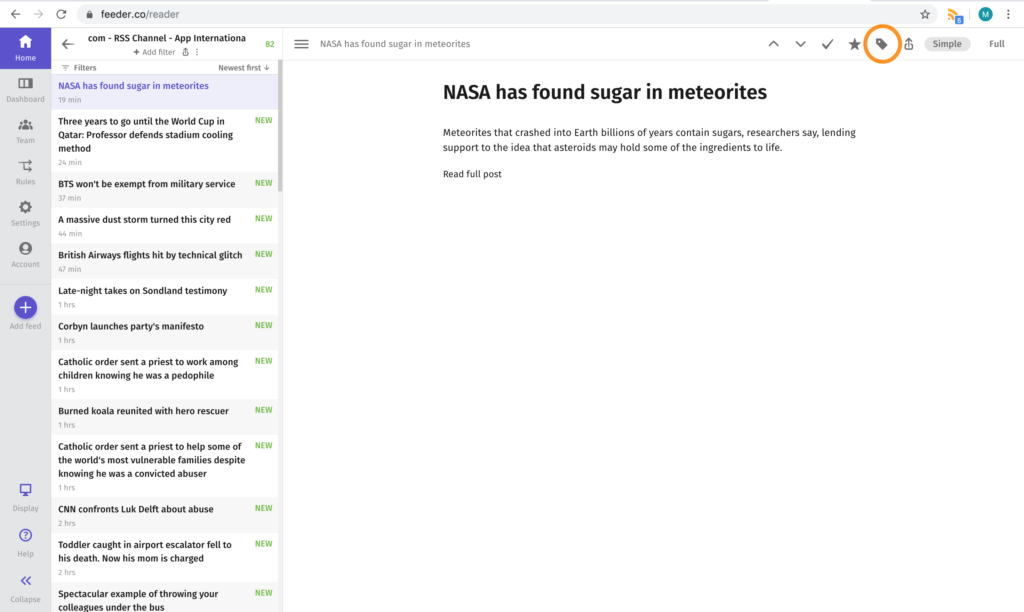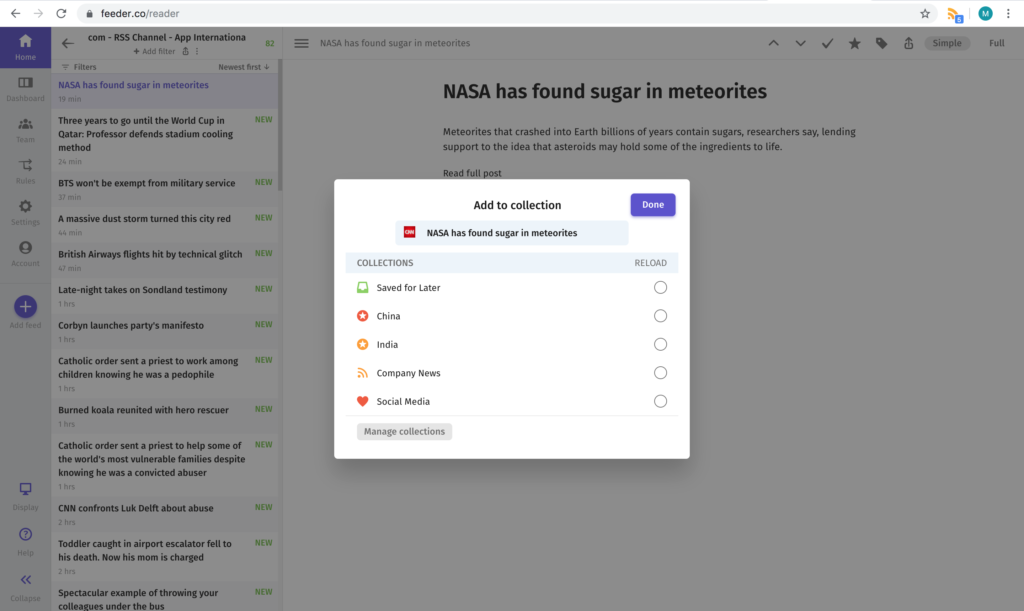 …in the Feeder extension
Right-click on a post and the Collection Dialog will appear. Click on the Collection you wish to add the post into and press "Done".
…in the Feeder app
Press the "Collections" icon in the post list or while reading a post. In the screen that opens you can create a collection, or choose which already existing collections the post should be in.
…using keyboard commands
When navigating with your keyboard, press P to activate the Collections Dialog on the currently active posts. Use the Up/Down keys to highlight a collection and press Enter to add it. Press Esc when you are done to hide the dialog.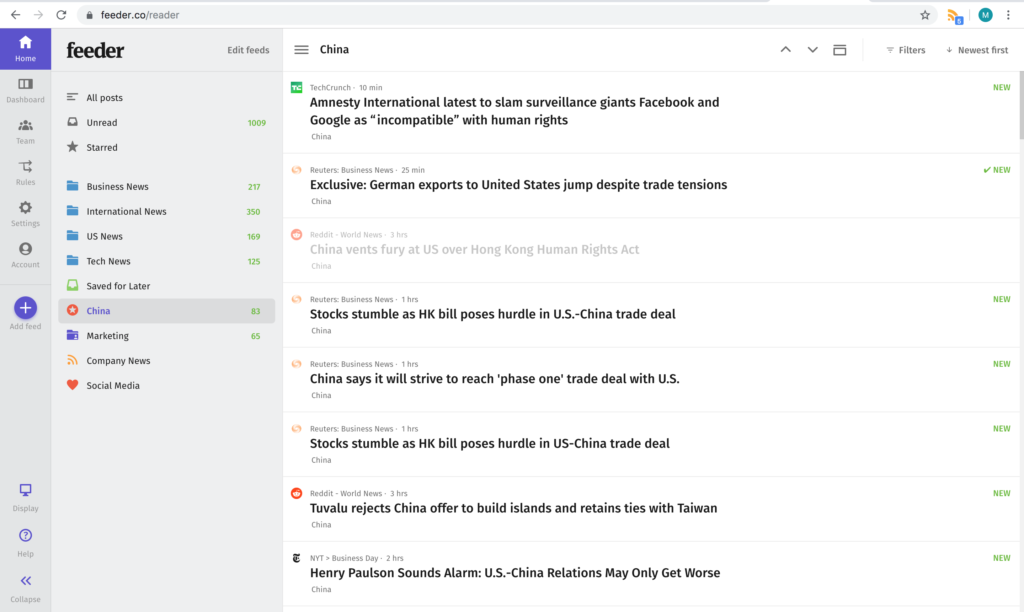 Viewing a Collection
There's really nothing different about browsing a collection. It's just like navigating through a regular feed.
Collections & Post Actions
Besides the Collection Dialog mentioned earlier, posts can be automatically added to collections based on Rules: Using the "Add to Collection" action-type.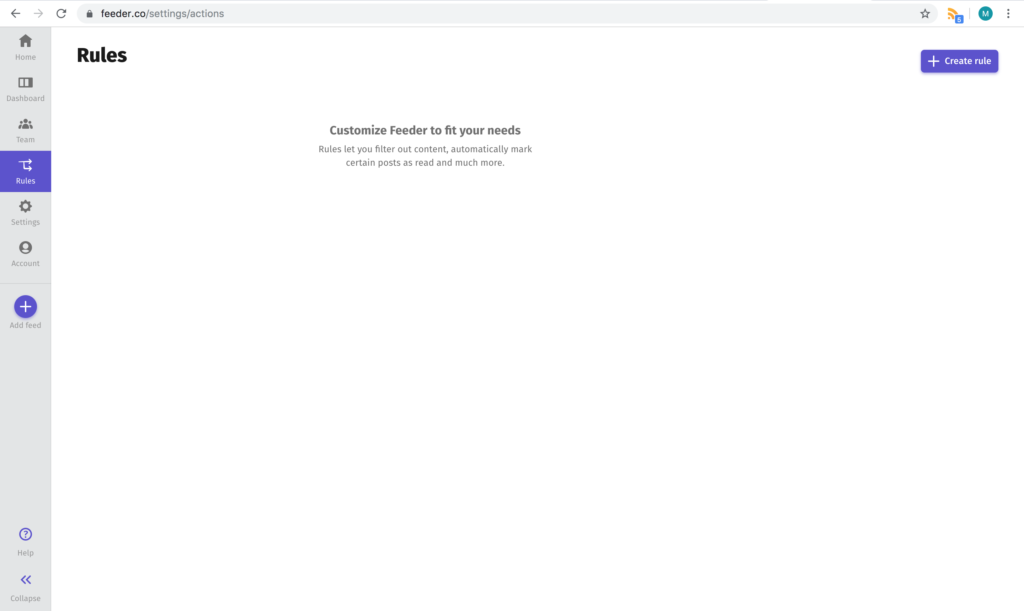 Open the feed you want as subject and press "Add Post Action". Choose the "Add to Collection" option and start adding the criteria you want.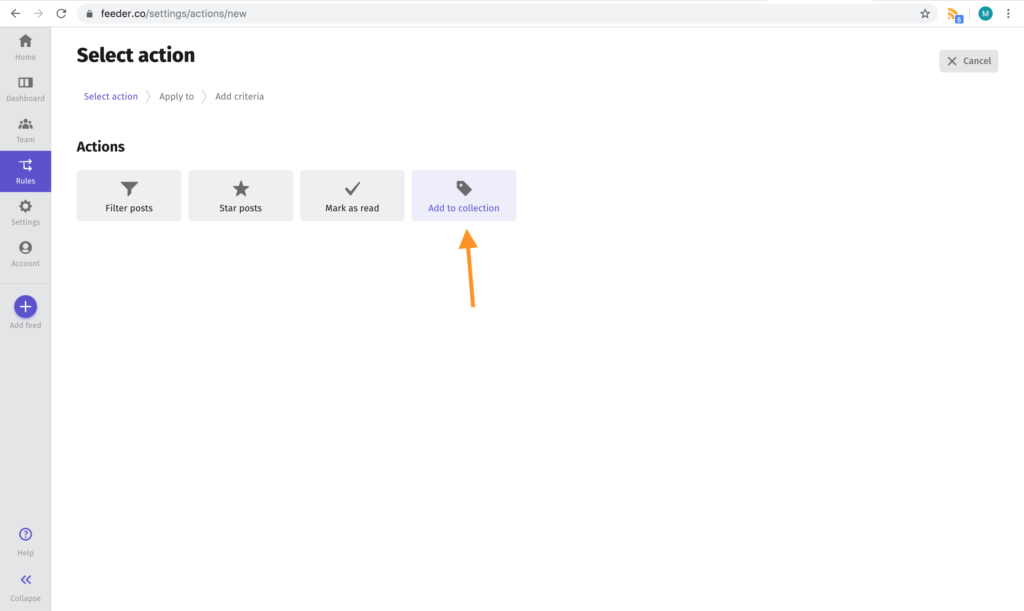 In this example, we have created an action on all feeds to add posts that contain the word "china".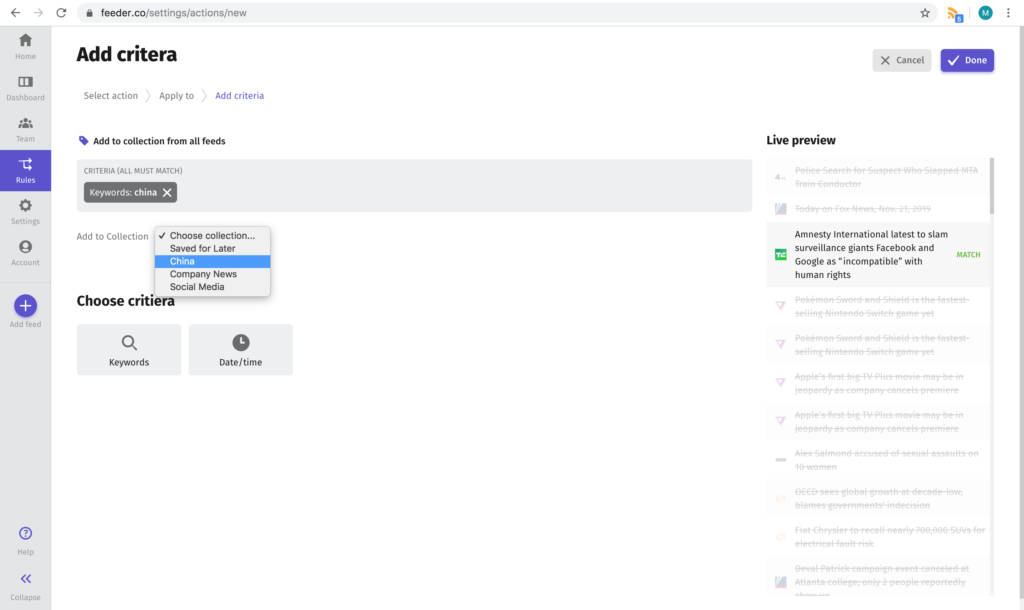 Note: A feed can have as many post actions as you like, so that you can add a post into many different collections. The picture below shows an example of adding posts to multiple collections based on different criteria.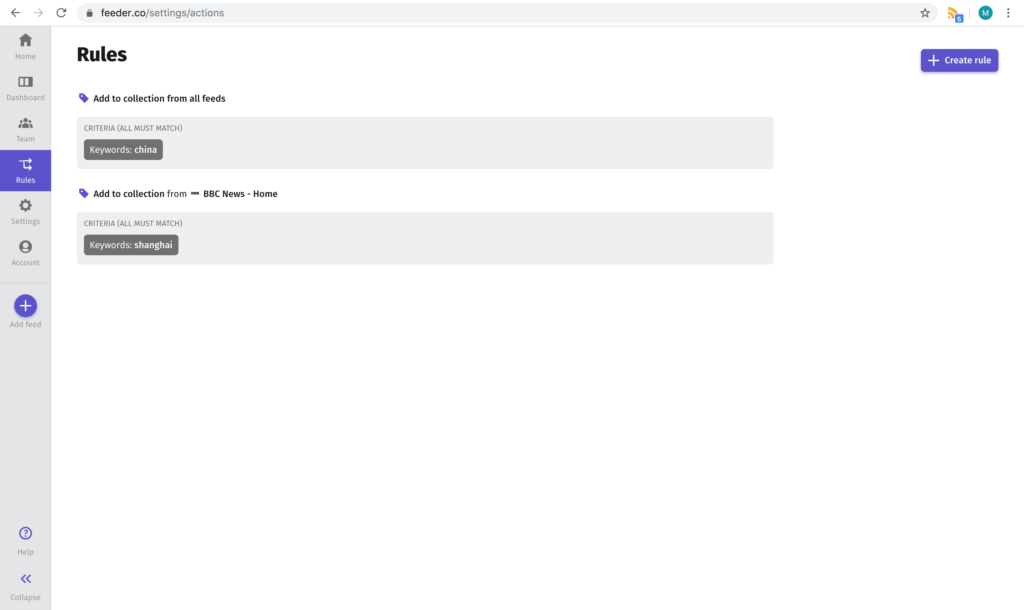 Feeder Business: Share a Collection
A collection can be shared, just like a feed or a folder. To share a collection, open the Business section and navigate to Shared Feeds.
Click "Add feed" and chose the feed (and the user group it should be in, if needed).
It is now shared to the selected teammates and will appear in their list of feeds just like any other feed.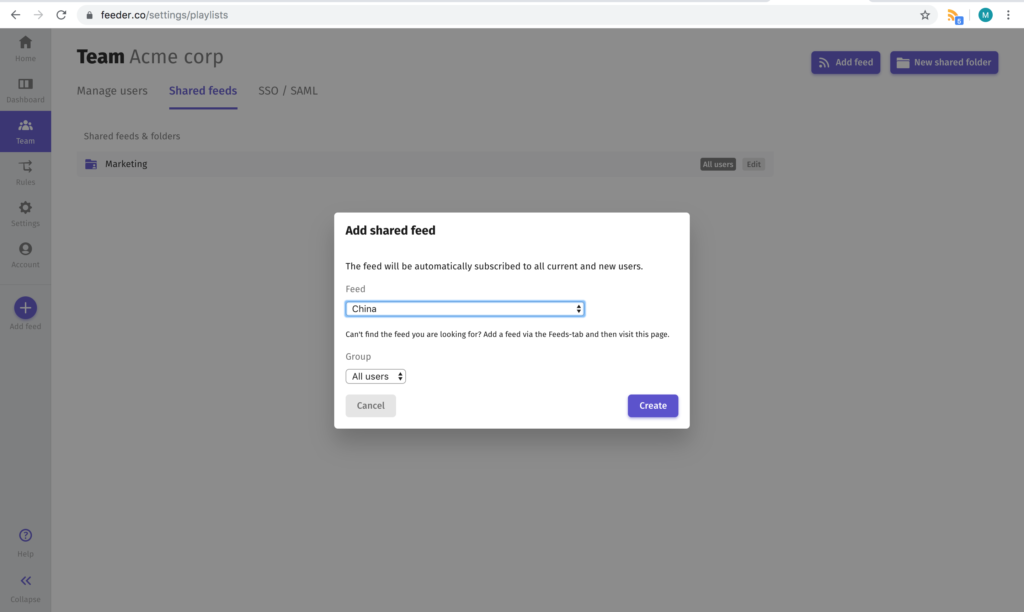 Adding posts
Follow the procedure outlined previously for adding posts to the collection. When a post is added to the collection, users will receive a notification just like with any other post (note that users can opt out of e-mails and notifications as they please).
All users in your team can add any post to any collection.
Unsubscribing/deleting a Collection
Since a collection can be shared with any number of teammates, unsubscribing to a collection does not delete the underlying collection.
If a collection is deleted from the feed list, it will still appear in your list of collections.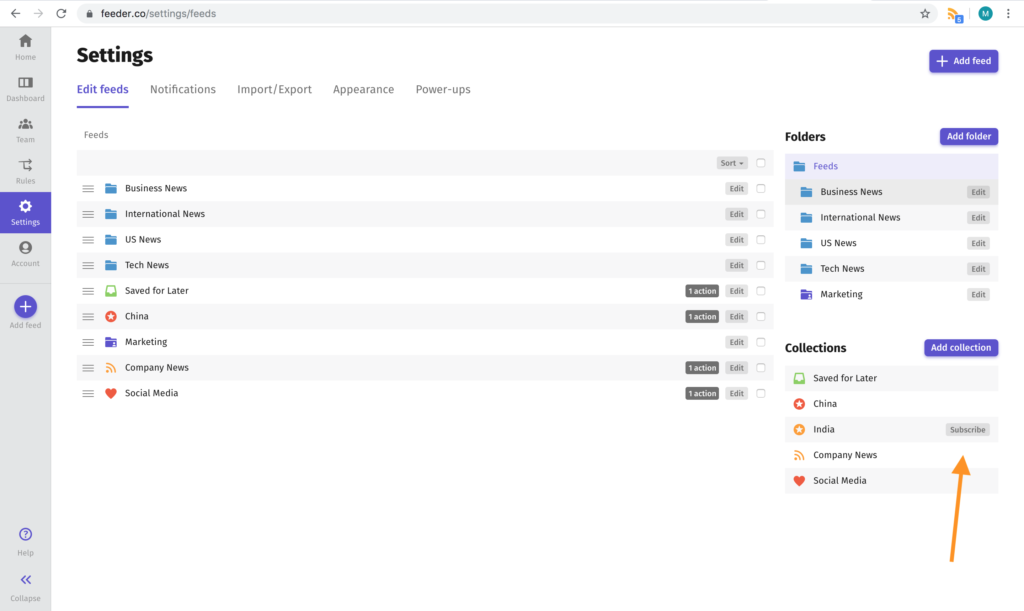 If you wish to re-add the collection to your feed list, simply press "Subscribe" next to the name.
A collection can be deleted permanently as well. Just click on a collection in the list and press "Delete".
Note: There is no way to bring it back once deleted.
Feeder Dashboard & Collections
Feeder Dashboard & Collections make for a powerful use case. Collections can be opened in the Dashboard just like any other feed. Setup Actions to automatically add posts of high importance, and keep a pane open just for those. It will help you faster triage your important tasks and news.
A note about Collections & Incoming Filters
Collections do not work well with Incoming Filters. If you want to be able to use Collections with Post Actions, we recommend not adding Filter rules. You can solve the need for filtering with collections instead.
When a post is filtered out using an Incoming Filter, it will also be filtered out from any collection it is contained in. This means if you add filters to a feed that also has actions, you will end up with missing entries.
If you have any questions or need help, send a message to support@feeder.co.