Welcome to Feeder Business! The best product to keep track of new information within teams. Build the perfect workflow for your team with features like Collections, shared feeds and Rules.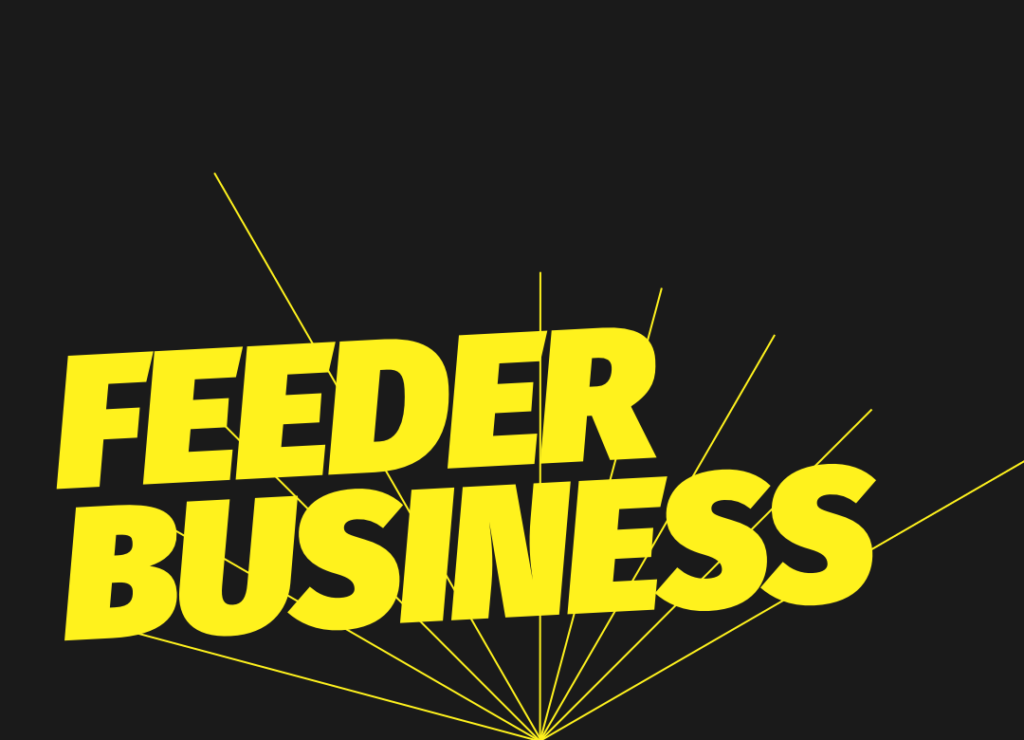 Inviting users
The first step is to invite other Feeder users to your account. It can be colleagues, team mates or project members – anyone that you want to start sharing feeds with.
Under Team in the sidebar you can see an overview of your Feeder Business account. Here you can invite and manage users as well as increase or decrease the number of seats.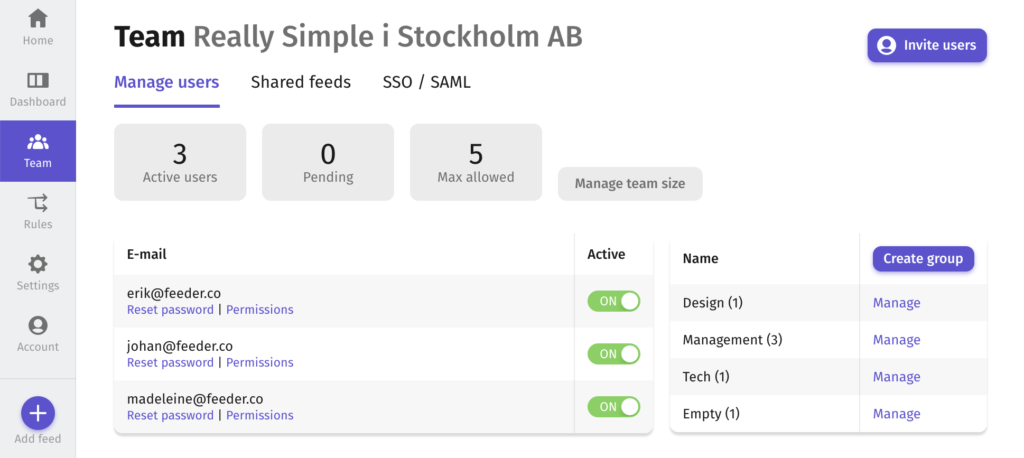 Begin by clicking the "Invite users" button and fill in your colleagues' emails. Press send and they will receive a link where they can create their accounts. By doing so they will automatically be added to your team.
User Groups
You also have the option of creating user groups. If you have different departments, projects or teams – this is a great way to manage what feeds these groups should follow. Simply click on the "Create group" button. 
Sharing feeds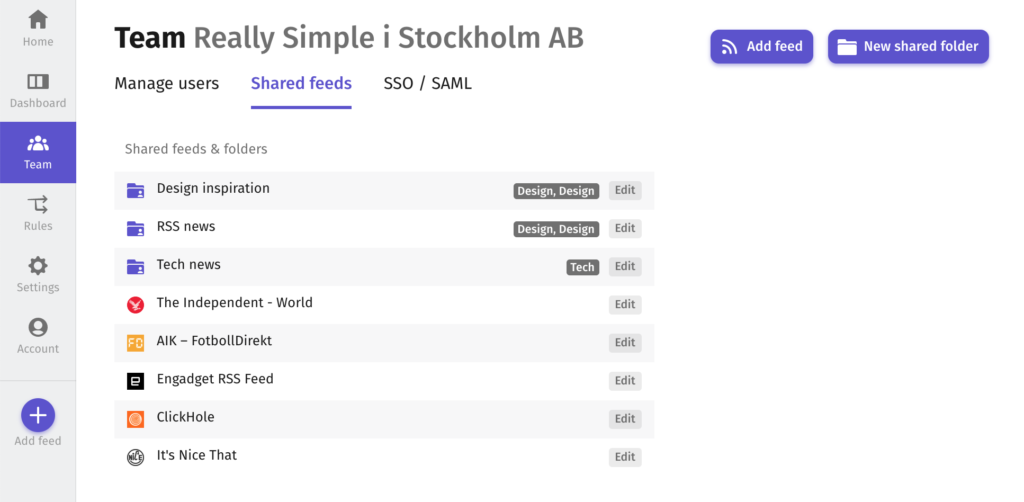 The next step is to create shared feeds and folders. If you already have many feeds in your account, the best way to share them is via Shared feeds. Click the Shared feeds tab under the Team section and then "New shared folder". This will create at first an empty folder that will be shared to all users in your account. To fill that folder with feeds, click on the "Add feed" button and then drag and drop feeds into the folder. They are now shared feeds inside that folder.
If you have no feeds: begin by adding feeds under the Add feed tab in your side menu.
Limiting folders to User groups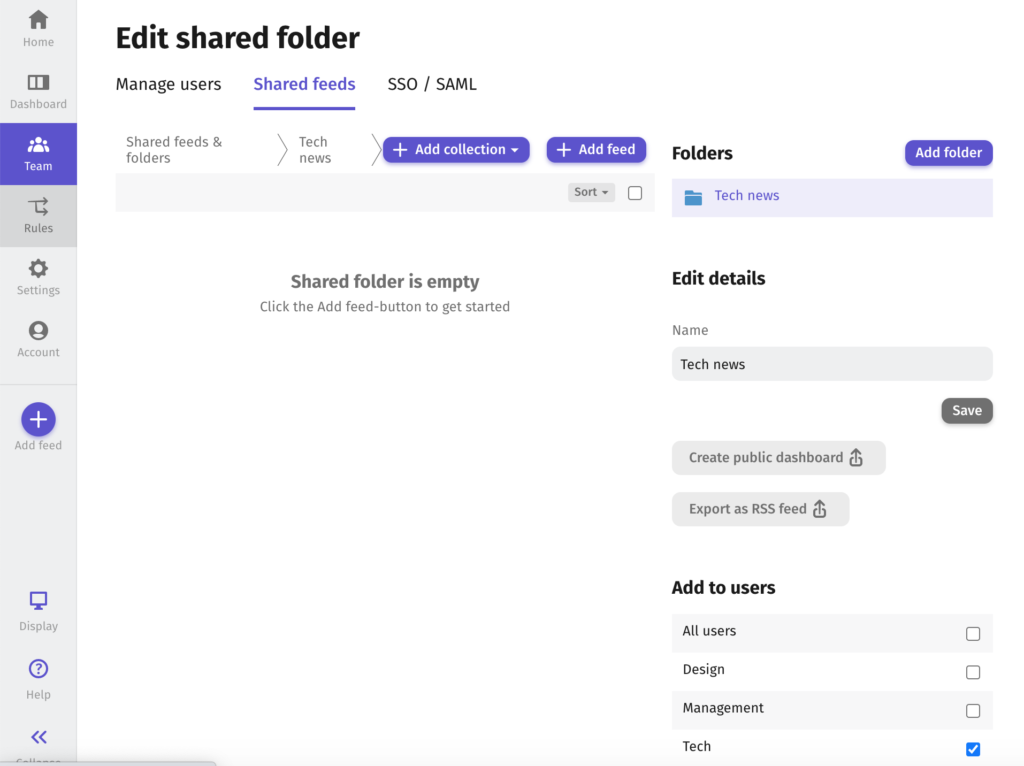 Under Shared feeds you see a list of all the shared feeds and folders you have created. To limit specific folders to certain user groups, click "Edit" on that folder and in the check box "Add to users" you can choose which user group that folder will belong to.
Adding seats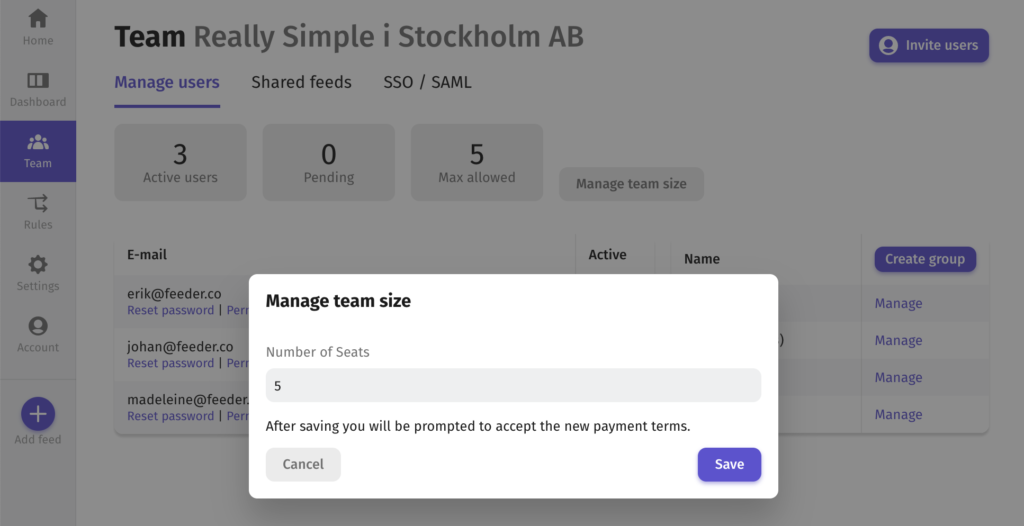 The number of seats is how many users you can have in your Feeder Business account. To add seats: Visit the Team tab the side menu and click "Manage team size". Here you can increase or decrease the number of seats. 
User Privileges
Currently all users get access to all features under Feeder Business. We are working on creating User Privileges where some users will be administrators that can increase/decrease seats or manage shared feeds and folders.
Something's not working?
Please contact us at support@feeder.co. We highly value Feeder Business users and offer hands on setup of your account as well as priority support. If you are missing important features let us know. We work tightly with users to solve specific needs.