Notes are a convenient way to both keep reminders for yourself or collaborate with your team. Personal notes are private to you – but notes added in teams are visible to all your team members. Notes are connected to posts and can help you keep information related to that post.
Writing a note
Simply scroll to the bottom of a post, or use the "Add a note" button in the top bar to find the Notes section.
Write your note in the input field and press the purple send button to post it. You can also use Cmd/Ctrl + Enter to post the note if you prefer working with the keyboard.
Formatting a note
You can use Cmd/Ctrl + B to add bold sections in your note, and Cmd/Ctrl + I to add italic sections. Most quick commands for formatting will work just as usual and in future releases we will add buttons to make it simpler to toggle these visual states.
Finding notes
You can find all posts where you've added notes in the "Notes" section in the sidebar.
Posts with notes also have a yellow marking showing how many notes are added to that post.
Another way to find posts with notes is using the filter function and check the "Notes" checkbox.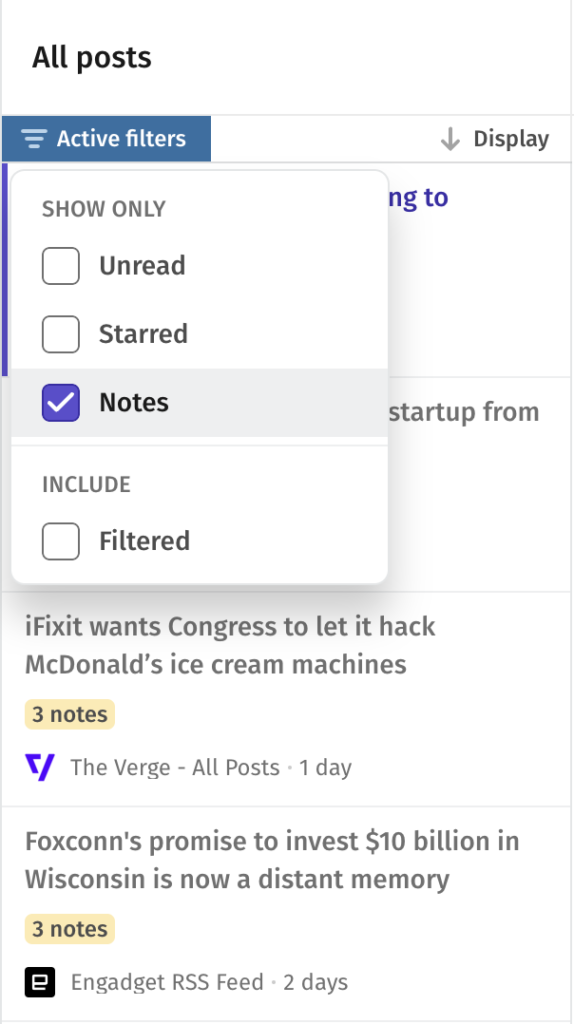 Key Benefits of Notes
Keep organized: Notes allow you to keep all information relating to a post in a single place.
Better collaboration: Use Notes to leave information your team members on a post. Maybe you're already "on it", or maybe you've found some important information related to that post that they need to know about.
Stay up to date: Use Notes to annotate extra important information on posts to easily find it later.
Only available in Feeder Plus
Please note that Notes are available as part of our Feeder Plus plan. To unlock this feature and enjoy its benefits, you can upgrade your account at any time by visiting the Billing section in your account settings, or going to https://feeder.co/account/subscription to read more about our different plans.
Questions and Support
If you have any questions or need further assistance, please don't hesitate to reach out to our support team at support@feeder.co or using the chat within Feeder. We're here to help you make the most of Feeder and enhance your collaborative workflow.