DEPRECATED Since Twitter closed access to their API, we have unfortunately had to deprecate this functionality.
Rules are a powerful automation tool built into Feeder. You can easily create advanced workflows that match your specific needs. One way of using Rules is to automatically tweet interesting and relevant articles to your audience. This is called the "Post to Twitter" rule.

Post to Twitter rules function exactly like any other rule. The steps are:
Create a new rule
Choose the "Post to Twitter" action
Setup the feeds you want to monitor
Optionally set keyword filters to make sure only relevant content is posted.
And once Feeder finds matching posts it will be instantly tweeted on your connected account.
Getting started
Step 1 – Go to the Rules page in your Feeder account.
Step 2 – Click the "+ Create rule" button
Step 3 – Click on the "Post to Twitter" button under the "What should happen" headline
Step 4 – Choose the feeds you want to monitor and repost from. Either choose All feeds, or just the ones that match your needs
Step 5 – Connect a Twitter account by press the "Connect to Twitter" button that appears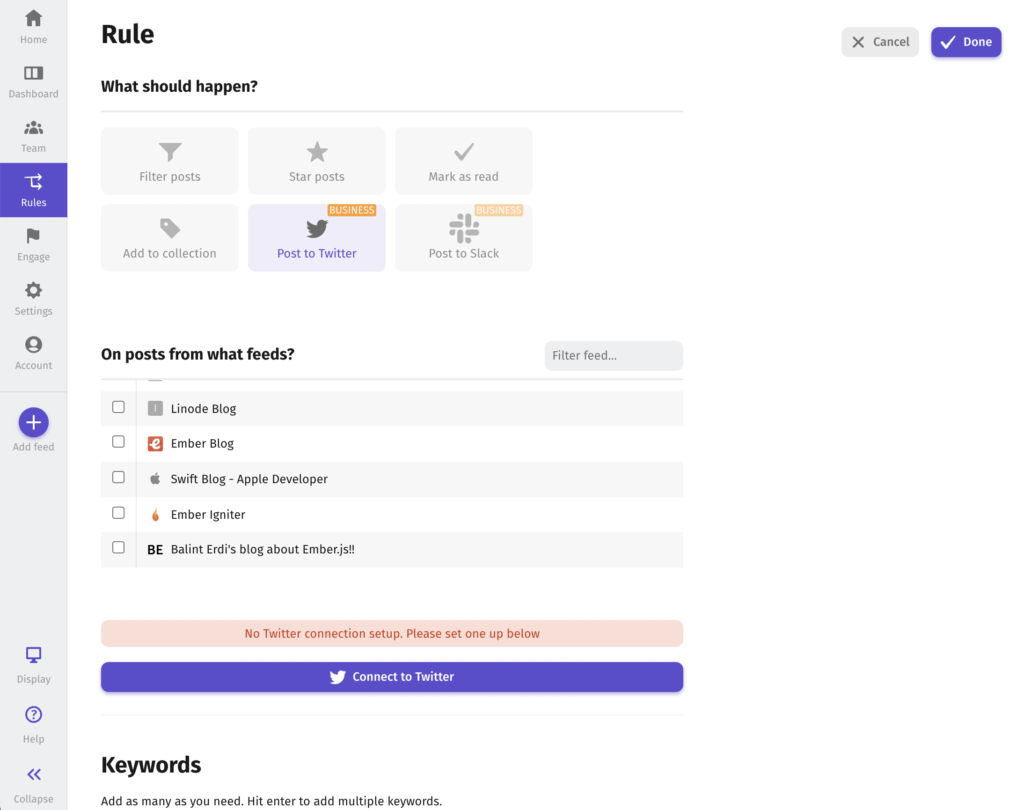 A popup will appear asking you to accept the permissions for Feeder. Don't worry – we'll never do anything with your account you didn't accept.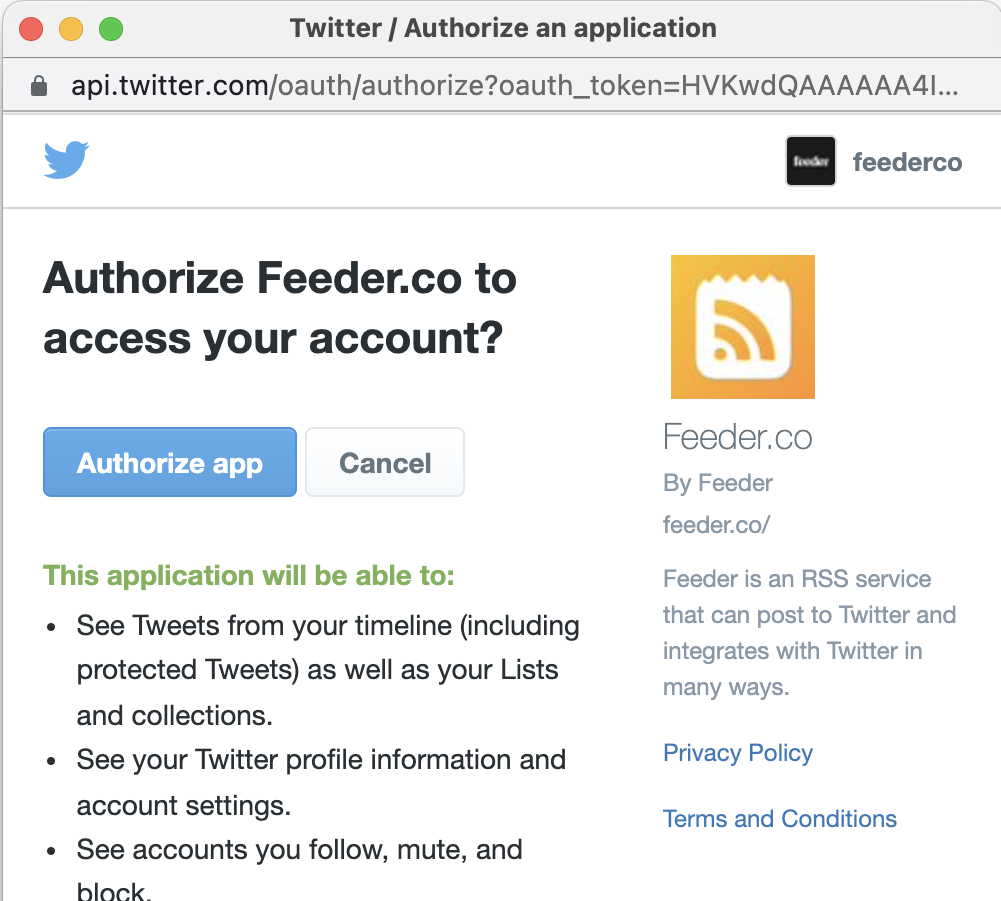 Step 6 – Now you're connected! You'll see the username that you are connected as.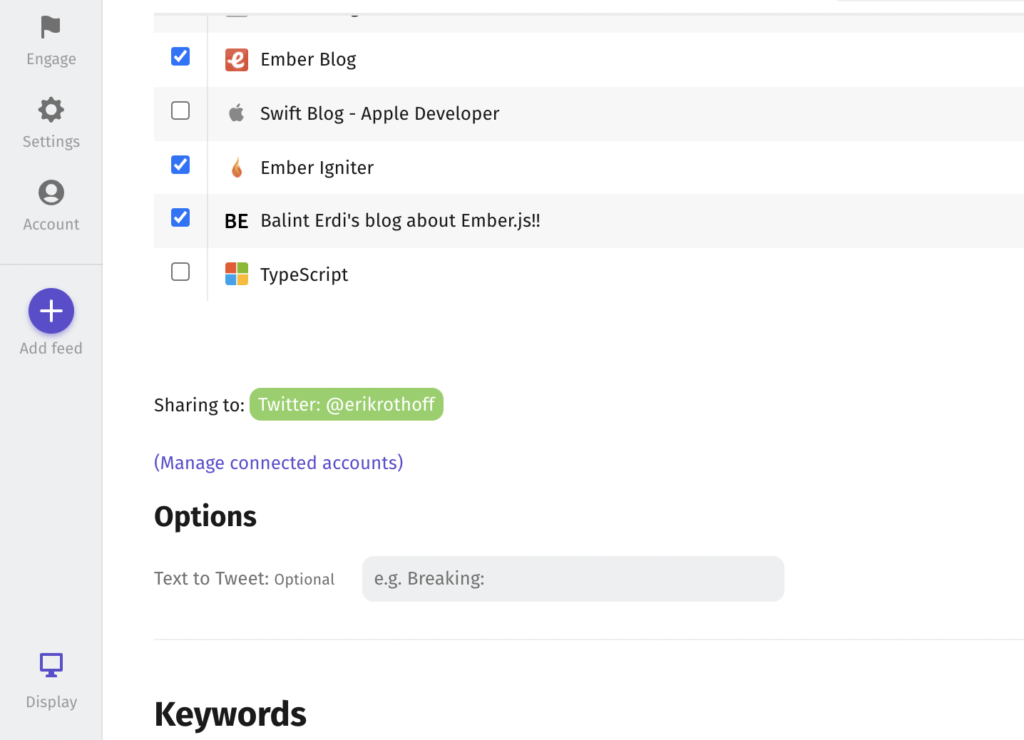 Step 7 – If you want, Feeder can prepend a small text before each tweet. Fill that in under the "Text to tweet" field (optional)
Step 8 – Setup your keyword filters to make sure you only tweet relevant content.
Pricing
This feature is currently only available on our business plans. Get in touch if you're interested in upgrading or have questions about this feature.
Limitations
Twitter has setup some limitations to make sure there is no abuse on their platform. We need to strictly adhere to these rules, otherwise we risk breaking the Twitter functionality for all users. Therefor we have put in place some limits for the Post to Twitter functionality:
It is not possible to add @-mentions in the "Text to tweet" field. This is to prevent unsolicited mentions and spamming
It is not possible to auto-retweet tweets. If you add a Twitter feed as a source to the rule, it will never be triggered. That is because auto-tweeting other peoples is considered spam by Twitter
We limit how many tweets can be created for your account. This is to avoid spam and runaway tweeting from too broad rules
If your account tries to send more tweets than our limits set out, they will be silently dropped. The limits currently are:
| | |
| --- | --- |
| Window | Maximum tweets |
| 30 seconds | 5 tweets |
| 10 minutes | 25 tweets |
| 1 hour | 80 tweets |
| 24 hours | 500 tweets |
Questions?
Need help or having questions on the best ways to use this feature? Get in touch: support@feeder.co