Workspaces (previously known as user groups) are a powerful feature that enable seamless collaboration among teams. They provide shared collections, shared feeds, and shared folders, allowing selected users to access and manage the same content collectively. Whether you're a Team Admin or a Workspace admin, workspaces empower you to streamline collaboration within your organization.

Creating a Workspace
To create a workspace, follow these simple steps:
Visit the Team home page at https://feeder.co/settings/team/workspaces.
Click on "+ Add Workspace" in the right corner
Give your Workspace a name, and choose which users should belong to it
Assign Feeds, Folders or Collections to your Workspace to automatically let the Workspace members see and manage the content of the feeds collectively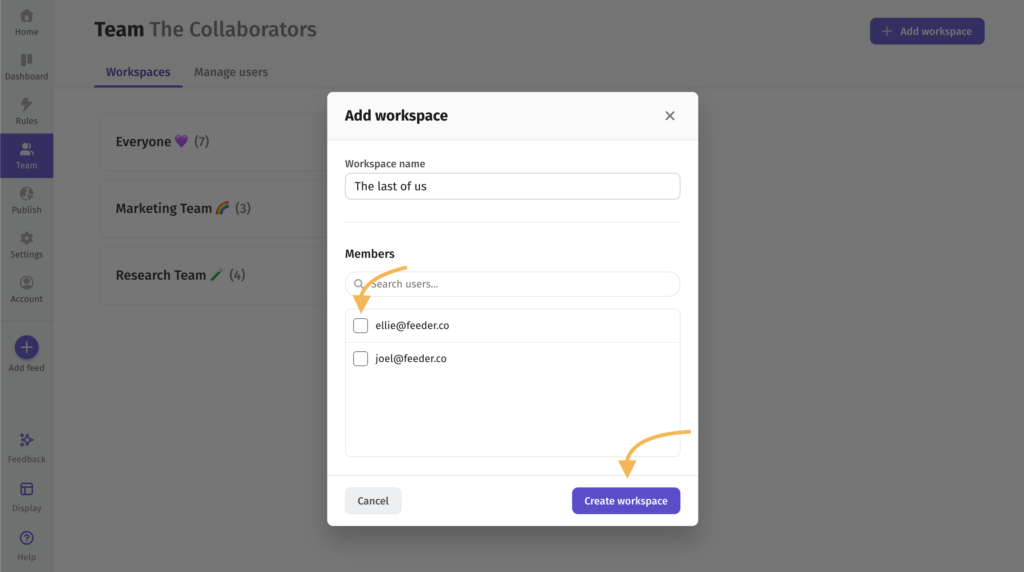 Accessing Workspaces from the Sidebar
Workspaces can be easily accessed from the sidebar. Each workspace you're a member of will appear as its own section, with only the feeds from that workspace visible, making it easy to manage and navigate between your personal and team feeds.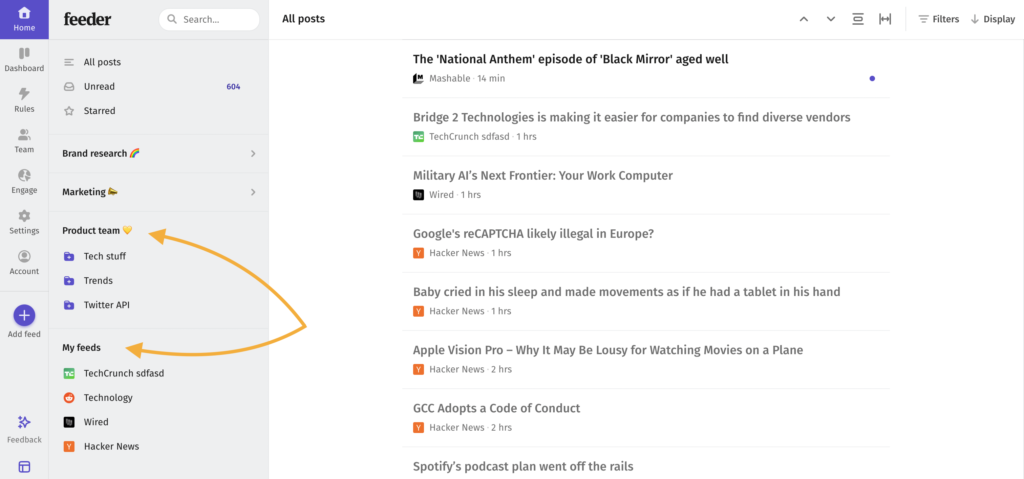 To help maintain focus and reduce cognitive load, you can toggle a workspace using the arrows next to each workspace title, allowing you to tailor the view to your current needs.
As a user, your workspace membership is set up by your Team Admin. So if you cannot see what you're supposed to see, contact your admin.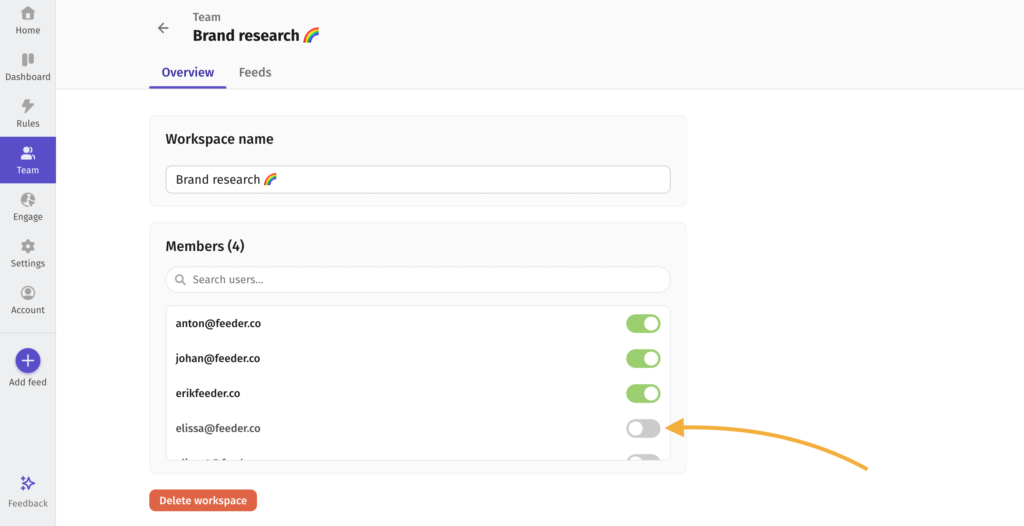 Key Benefits of Workspaces
Shared Collections: Workspaces allow team members to access and contribute to shared collections. This feature promotes seamless content sharing and collaboration, ensuring everyone stays up to date.
Shared Feeds: Collaborate effectively by granting a specific group of users access to the same feeds. With shared feeds, teams can easily monitor and discuss relevant content together.
Shared Folders: Organize and manage content within shared folders, providing teams with a centralized location for storing and accessing important resources.
Only available in Feeder Professional
Please note that Workspaces are available as part of our Feeder Professional plan. To unlock this feature and enjoy its benefits, you can upgrade your account at any time by visiting the Billing section in your account settings, or going to https://feeder.co/account/subscription to read more about our different plans.
Questions and Support
If you have any questions or need further assistance, please don't hesitate to reach out to our support team at support@feeder.co or using the chat within Feeder. We're here to help you make the most of Feeder Professional and enhance your collaborative workflow.