How to build your own Dashboard
The response to our Corona Dashboard has been amazing and humbling. So many of you reached out to give us feedback and ideas for improvements. We really appreciate it and it makes us so happy to see that our dashboard has provided people with helpful and reliable information. One recurring question has been "how can I build my own dashboard?". In this post we'll show you how.
Sources
The hardest part of building our Corona Dashboard was finding good and reputable sources of news. The number of existing news websites are almost endless today. Unfortunately, a lot of them are based on poor journalism and you constantly need to watch out for fake news and deceitful click-baits. We wanted our sources to be well-known and trustful.
Luckily, we have a category called "News" in our Discover section where you can find the most popular and followed news feeds.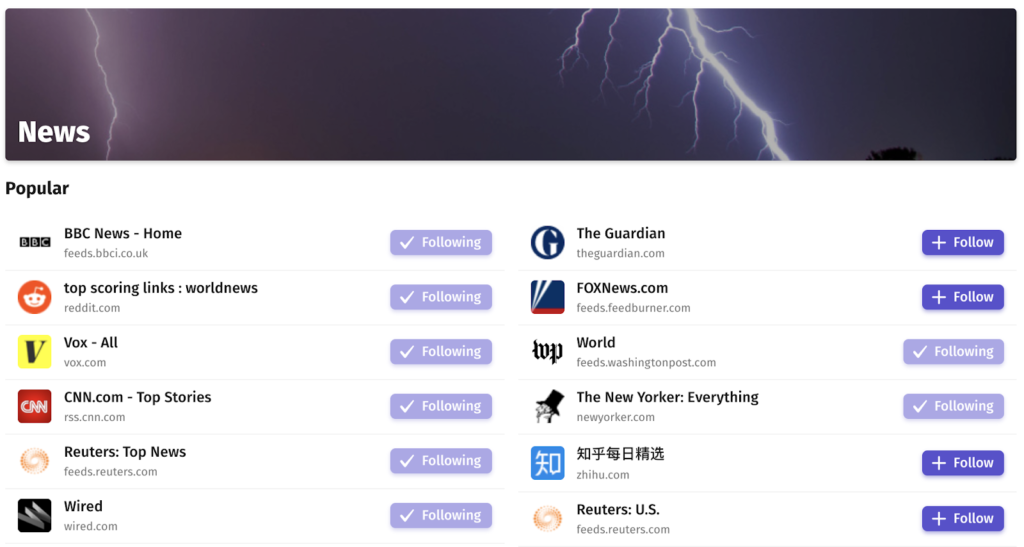 Any Website
Besides regular news sites, it's very important to keep up with what different governments around the world are saying. We set up a spreadsheet on Notion.so where we collected sites with relevant governmental news.
We used Wikipedia and searched for different countries' governmental websites. Then we went through the sites one-by-one, looking for relevant information to collect to our dashboard. We chose out all the informative sections and added their feed links.
Some of the websites don't have RSS feeds for all their sections, but with our Any Website tool you can simply point-and-click on the tidbits you want to follow.
For example, the Irish Department of Foreign Affairs has got a section on their site regarding travel advice, but have yet to create an RSS feed from it.
Using Any Website, we just pointed out the sections we considered to be important: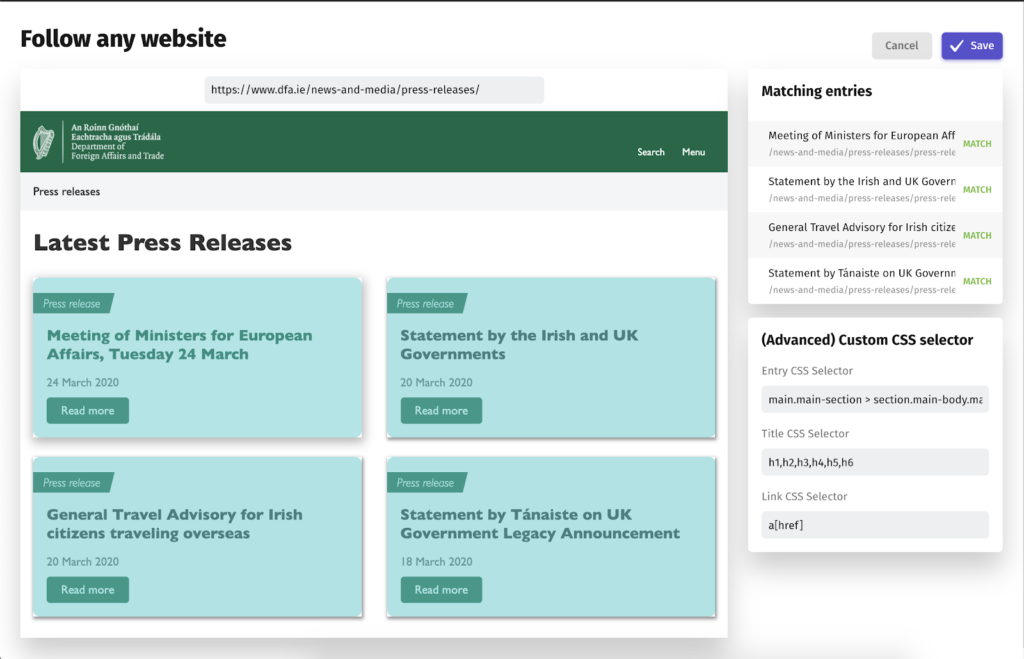 Search engine
We also found lots of useful feeds using Feeder's powerful feed search engine. We crawl over 2 million feeds every day so we naturally have a vast database of feeds that are searchable.
For example, we could go through the CDC website to find the different feeds. Or we could just search for "cdc.gov" and get a list of sources we've already crawled: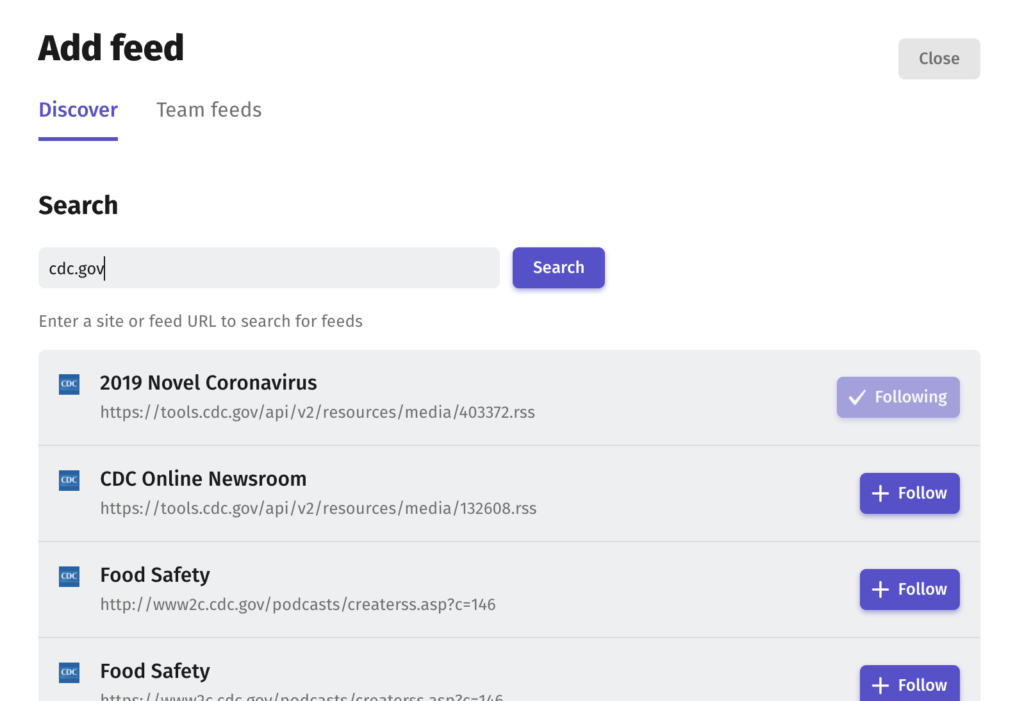 Rules
Now that we had all sources setup, we wanted to filter them for news about the Corona-virus. Feeder has two options for filtering content. One of them is to create a filter to hide anything from a source that has nothing to do with the topic. We wanted the reverse, to only show relevant posts in a separate list. This is where the second option comes in, what we call Collections.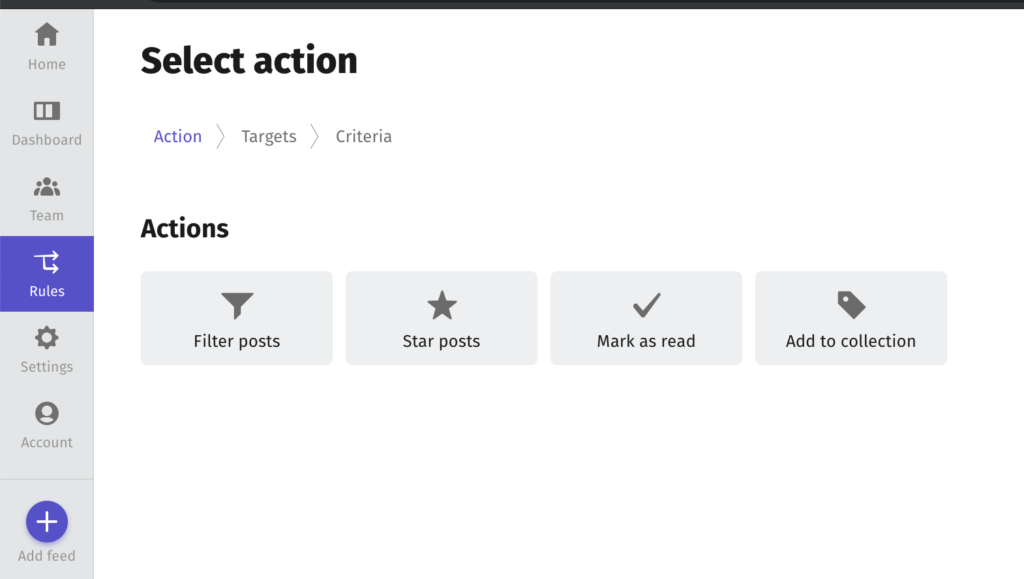 A collection is like an empty feed inside which you can control all content yourself. You can right-click on any post and tag it to a collection. This collection can be shared with other Feeder users. We used this method for our Corona Dashboard so that we could share it with you all.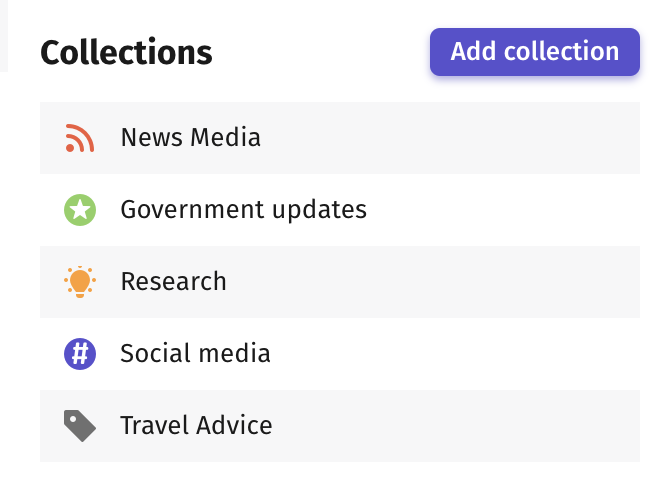 With the Rules-feature we made it possible to automatically tag updates to Collections using the "Add to Collection"-action. It's a smart filter that routes any post matching your criteria to its final destination. You can choose to add many different rules to a single collection.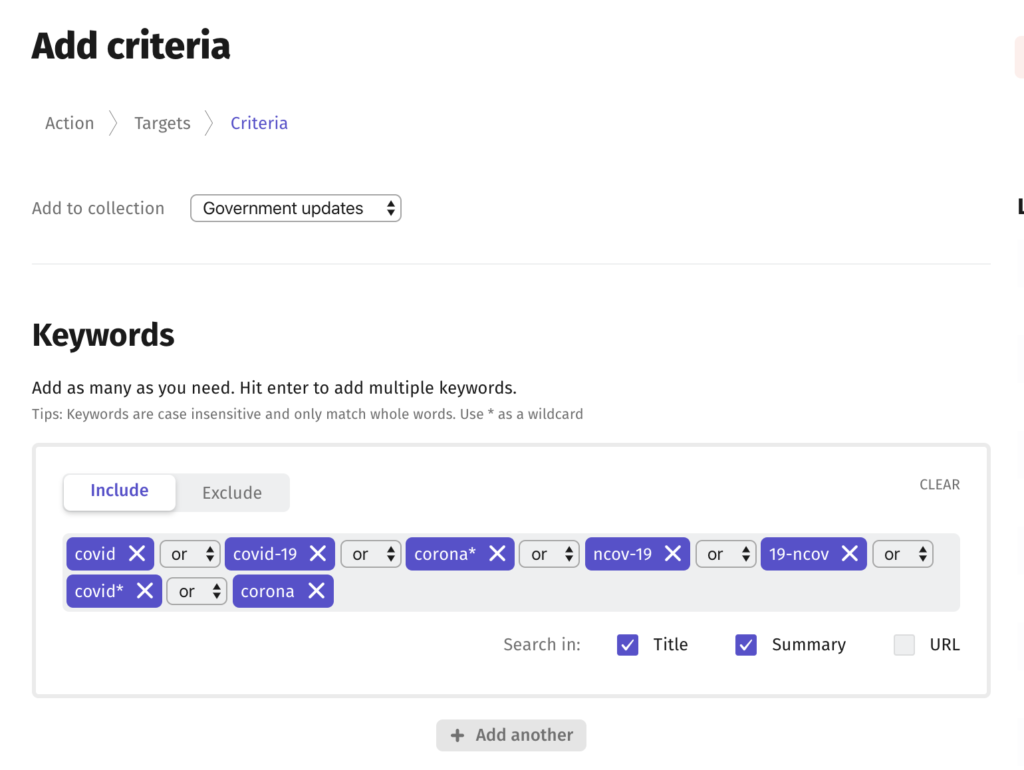 We knew that for some sources, all posts were going to be related to the pandemic. This was the case with the special feeds setup by governments. With the "Add to collection"-action, you don't need to limit the flow with criteria. Simply leave them empty, and all posts will be targeted by the action.

Some sources post news that might be relevant to multiple collections. In the Research- collection we wanted to put everything that matched "corona", but ALSO everything that mentioned "vaccine". This was easy with the boolean logic of the keyword filter:

Dashboard
Now that we finally had everything we needed, setting up the dashboard was easy!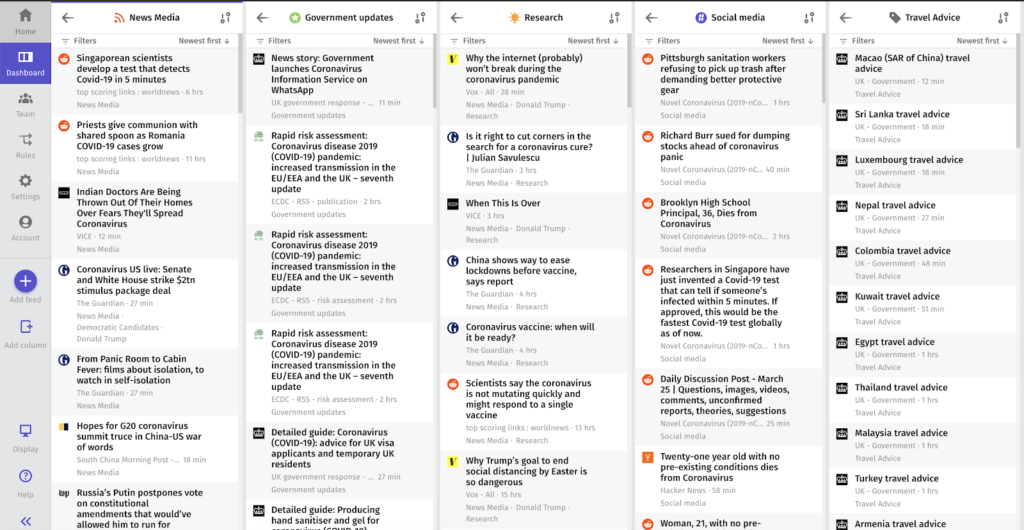 The Dashboard started out as a blank canvas that we needed to fill with the feeds we wanted to see. Setting it up was as easy as adding the 5 columns, and for each column we navigated to the desired feed. The dashboard will remember where you are if you want to leave and come back.
With the collections we set up for our Corona dashboard, it was just a matter of adding the 5 columns needed, and opening the right one in each.
Sharing it with your team
Now all this is all great for a single user, but how do we get it across to our team?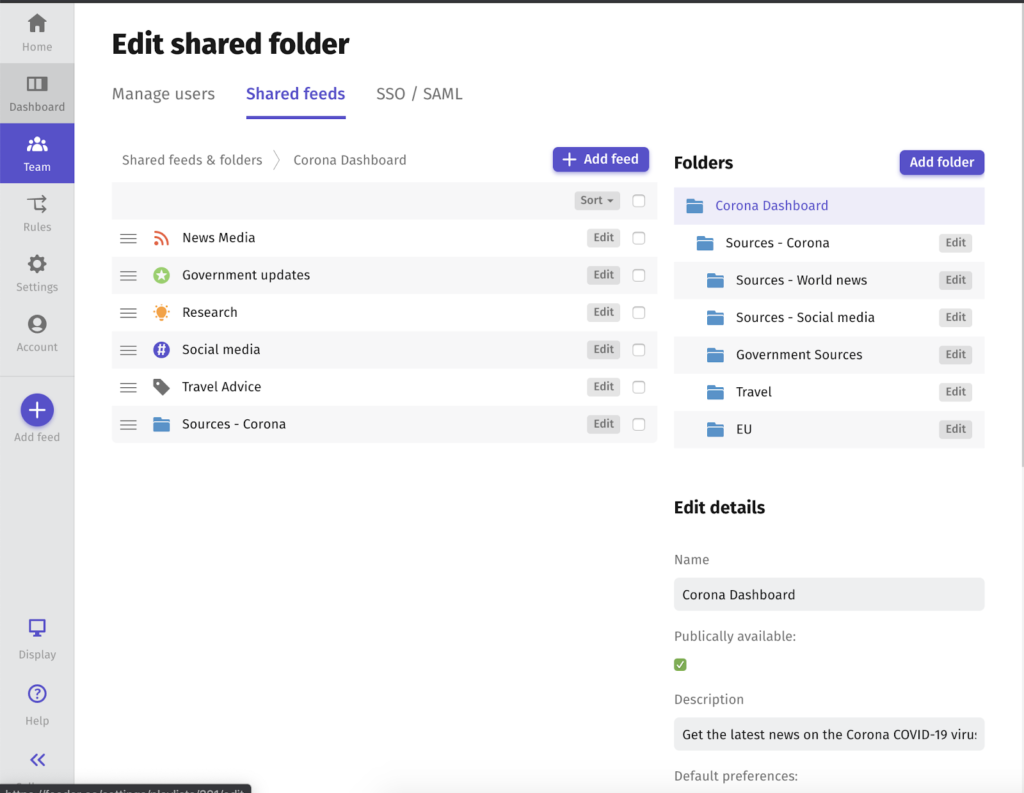 This is where the Shared folder feature really shines. We created a shared folder called Corona Dashboard where we added our collections. While not necessary for the collections to work, we wanted anyone to be able to see which sources we used for our rules. To do that we just created a "Sources" folder inside the folder that has all the sources.
To make it possible to spread the dashboard, we had to implement an entirely new feature called "Public Dashboards". It's in beta-only since we didn't have time to polish it. This makes the shared folder available to anyone without an account via a unique link.
"Public Dashboards" are not yet available for everyone. If you want to use it, please get in touch with us and we'll see what we can do for you.