March 12, 2020 13:04
There are various ways you can use Feeder. It can be a fantastic tool to use in your profession, but also to keep track of your personal interests. We know that keeping your interests alive in itself can be a full time job! Or at least part time if you keep your feeds organized. We asked our intern Madeleine to write about how she gets the most out of Feeder. She's a relatively new Feeder-user and has been using it for a few months now. Read her full story below!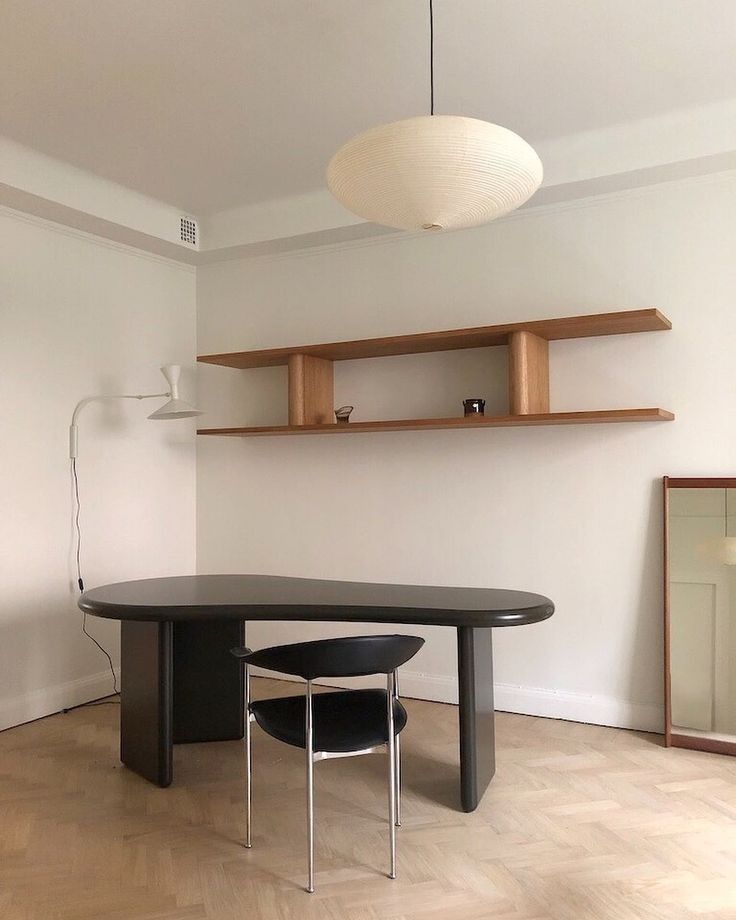 Hello readers! My name is Madeleine. I'm a 26-year-old design-enthusiast living in Stockholm and I've been a Feeder intern since a few months back. When I started using Feeder, I was encouraged by the Feeder team to be creative and find out how to use the different tools and features to keep up with my personal interests. I decided to apply it to my no. 1 obsession in life: Online auctions. Now that some time has passed, I'm excited to show you how I use Feeder to effectively entertain this time-consuming hobby.
So what's so exciting about online auctions? I've always had great interest in art and interior design. I enjoy a great bargain and I try my best to make smart investments. My goal in life is to fill my home with timeless pieces that I truly love. To be able to buy things vintage is a sustainable and affordable way for me to do that. But it requires patience, knowledge and a good insight in the world of auctions and vintage retail.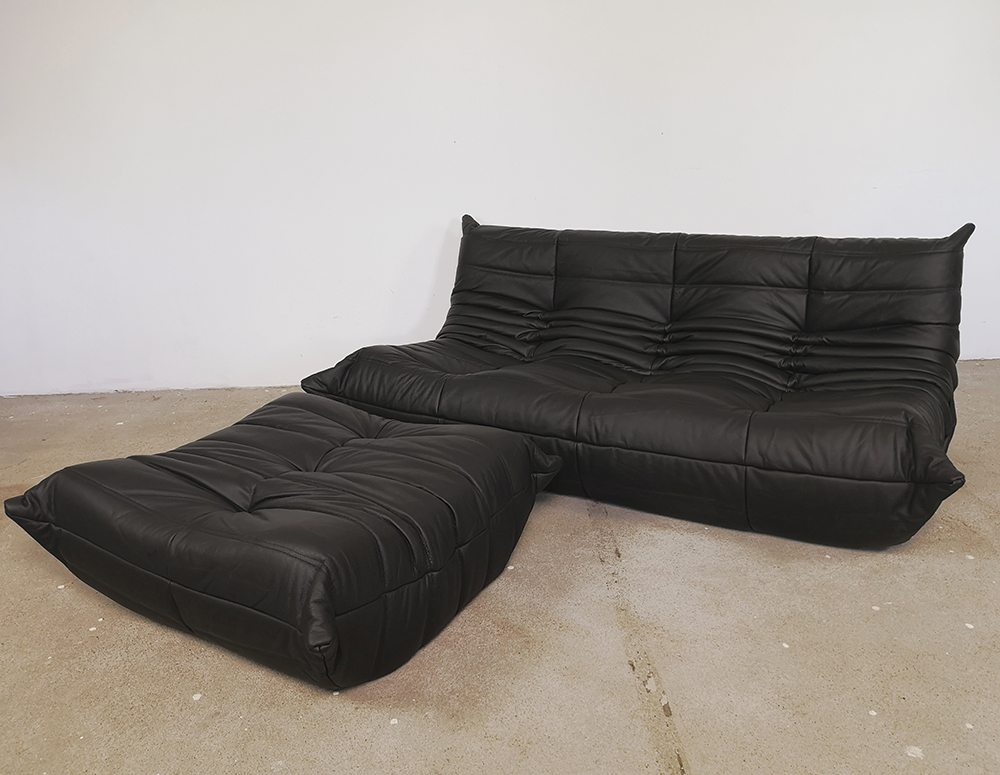 Learning how to recognize a good bargain can be tough. It's important to have a clear picture of what type of things you're looking for. There's three questions I always ask myself before I make a purchase.
1. Do I absolutely love this item? If I hesitate too much, it's not meant to be.
2. Will I still love it after some time has passed?
3. Does it really reflect my personal style and go with my other stuff?
Besides answering these questions, I look closely at the quality and the material. When it comes to vintage design, my experience tells me that the condition of a pre-used item says a lot about the quality of the brand. That's also smart to keep in mind if you think about investing in something newly-produced.
Feeder has really helped me to stay focused in my search for the next great catch. It can be a real vintage-jungle out there. Filters are necessary not to lose your mind browsing through miles of ads when you do your vintage shopping online. I discovered that I can easily follow my favorite online-auction sites in a way that's shown to be very effective.

First thing I did was I started following one of my favorite Swedish auction sites named Bukowskis. This site doesn't provide an RSS feed, but you can use our Point-and-click tool to tell Feeder what you want to follow. Using this tool, called Any Website, I was able to follow Bukowskis latest auctions.
A site like Bukowskis, publishes lots of auctions every day. But I don't have the time and energy to look through all of them. So I used the Rules-function to narrow down my search. I added all the keywords needed for the right auctions to caught my attention. Like my favorite brands and designers.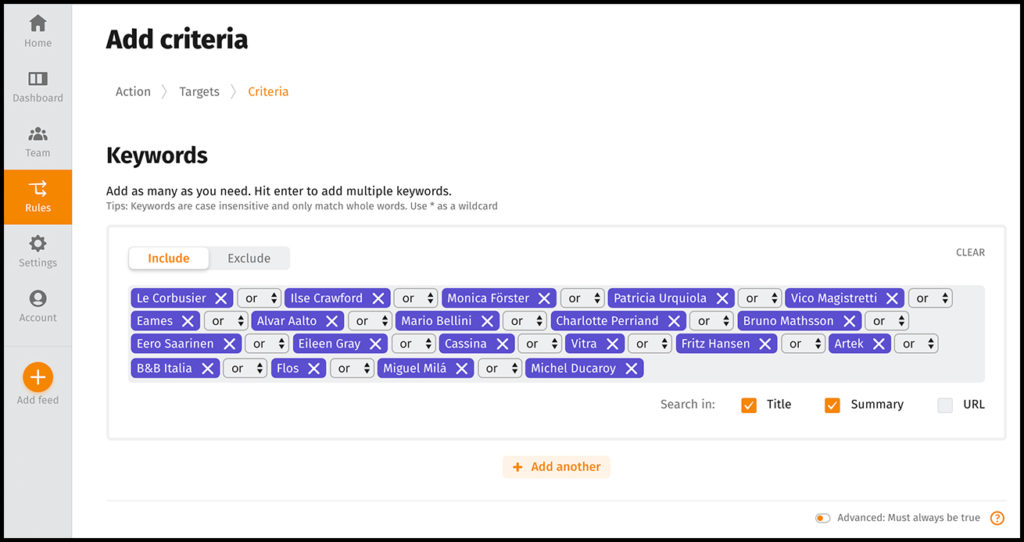 Now I have a constant flow of auctions that updates every day in my feed and they're all related to what I'm actually looking for. Every new auction appears as a new post in my feed and I can read all the information and even place a bid without actually entering the website.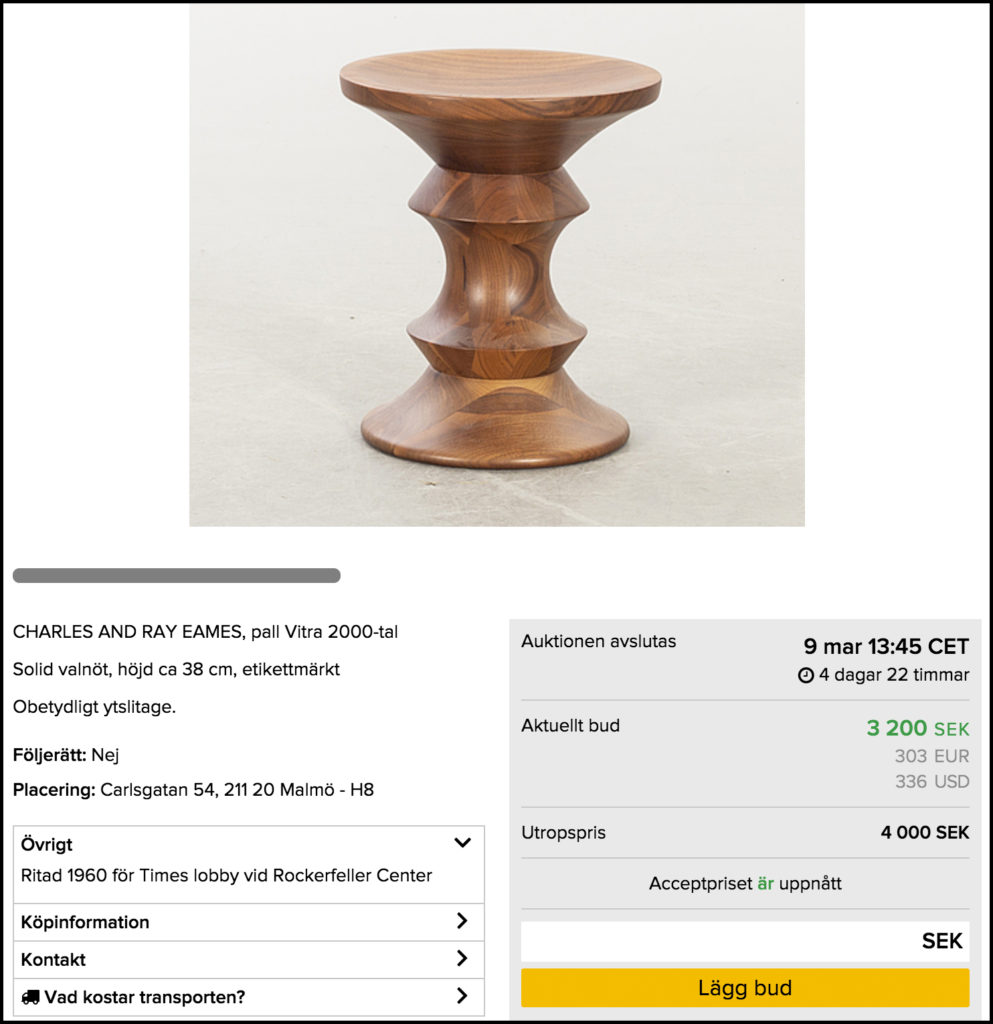 I quickly realized that I wanted to organize the ads that I found the most interesting so that I could easily return to them later. In order to do that I created different Collections. For example, I now have a collection called Lighting where I save lamps that I might want to place a bid on later.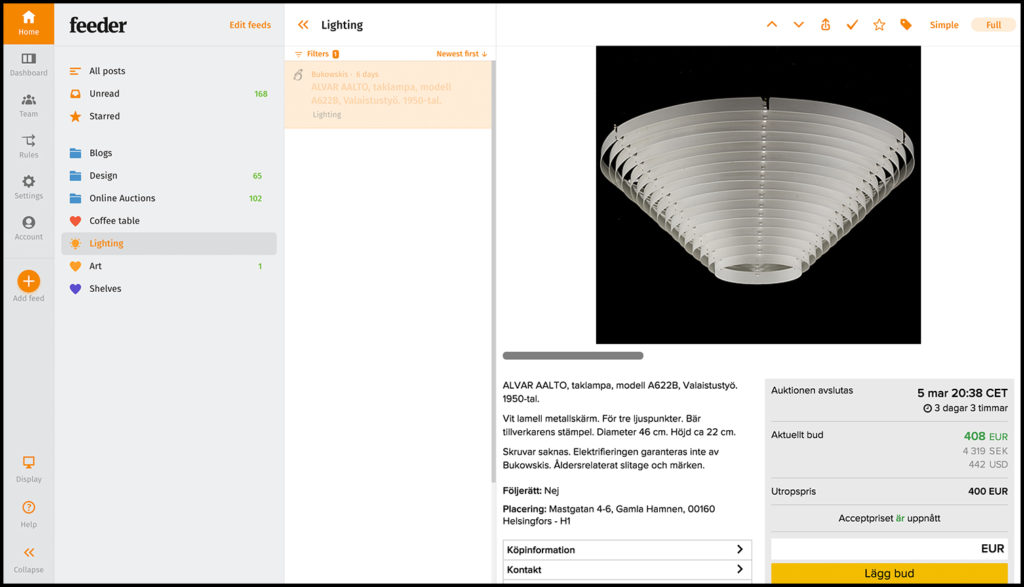 Another convenient function I learned is that you can actually share collections with others. I shared Lighting with my boyfriend because I wanted to show him this Aalto ceiling lamp.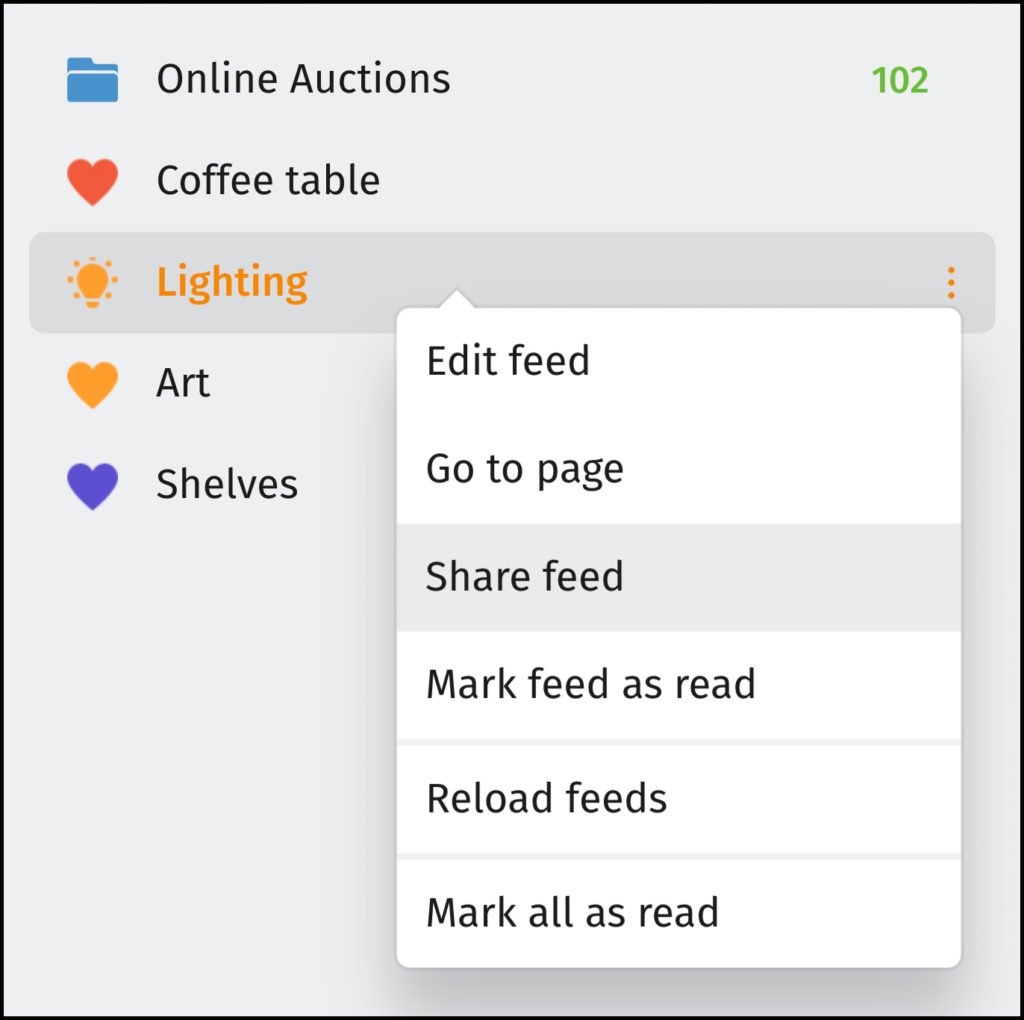 Then I came up with the idea to use the Team-function so that he can add his own posts (or ads in this case) to the same collection. Now we have a shared collection of lighting and can easily discuss and plan our future biddings together. To have access to the Team-function, you need to have a Feeder business account. But you obviously don't need to run a business to find this feature helpful. It's a perfect tool to share your ideas and to engage and inspire others.

If you're looking for things to buy second hand, here's some great sites to follow besides Bukowskis. Some of these sites provide RSS and the others you can follow with our Any Website-tool.
eBay
Etsy
Vestiaire Collective
Marktplaats
Discogs
Auktionsverket
VNTG
I hope that I've inspired you to follow any of these sites with Feeder! If you have any technical questions, feel free to contact our support. Or if you just want to share your thoughts on this article, email us at [email protected].